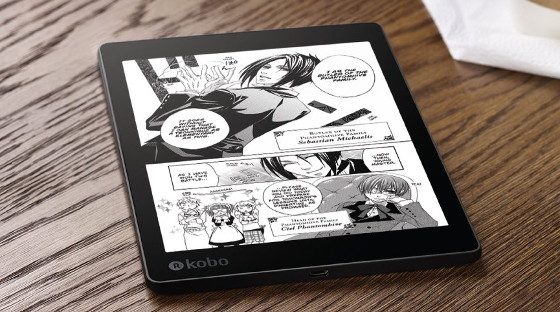 Kobo has issued a new software update for their line of ebook readers that adds a couple of new features, most notably a fast page flip feature to quickly scan through pages.
The new firmware version is 4.8.10956. It's available for most models except the Kobo Mini.
Like usual you can wait for the update to download and install automatically over Wi-Fi, but Kobo generally does a slow rollout so it might take a few weeks for the update to show up.
If you want to manually install the update now, the downloads for each model can be found on this Kobo Firmware Downloads page.
The main change with the update is the addition of an enhanced page-turn feature that lets you quickly flip through pages.
Previously the enhanced page turning feature was only available on the Limited Edition Kobo Aura One. It's good to see Kobo porting the feature to their other models as well.
To activate the new fast page turn feature, hold the bottom corner of the screen—right for forward and left for back.
Unfortunately the fast page turn feature only works with Kobo's KePub format, not regular ePubs, PDFs or any of the other supported formats. But you can easily convert files to .kepub format using Calibre or the Kepubify conversion utility.
The release notes also mention a new option in Reading Settings to set page turns to tapping or swiping, or just by swiping only, but this was already in the previous 4.7.10413 firmware.
Kobo's New Fast Page Turn Feature
via: MobileRead