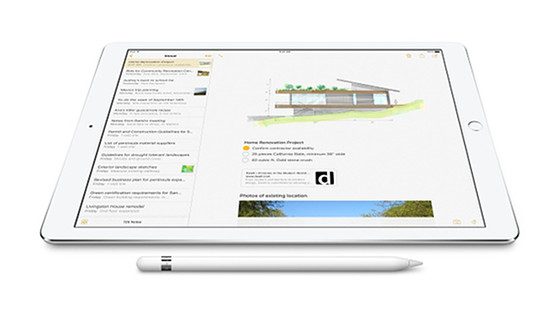 One of the main changes with the new 9.7-inch iPad that was recently released for 2018 is the added support for the Apple Pencil.
Previously you had to shell out big bucks for an iPad Pro to get that luxury, but now Apple's entry-level model is capable of the same kind of note-taking and drawing features using the Apple Pencil.
It opens up more possibilities in terms of production and education, and it gives Apple a good excuse to sell them to schools.
The retail price for the Apple Pencil is $99 so it isn't cheap.
It connects to the iPad via Bluetooth. You pair the two by plugging the Apple Pencil into the iPad's lightning port.
You can charge the Pencil with an included adapter or via the iPad itself. It charges quickly and uses less than 1% of the iPad's battery to recharge it from empty.
Apple claims the battery can last up to 12 hours of use.
The Pencil has a very smooth and slick feel to it. The tip is pressure sensitive and it supports shading and tilt.
I was expecting the Apple Pencil to have a slightly rubbery tip or something with a bit of texture, but the tip just feels like hard plastic. The feeling of writing on the iPad's glass screen is about as unpaper-like as it gets.
The plastic tip also makes a lot of clanking noises when tapping the screen. Once you get used to using a lighter touch it's not as bad but there's still always audible clicking noises while writing. This combined with the slick feel of the glass makes it more suitable for cursive writing than print.
But the Pencil isn't just for writing and drawing. One advantage with the stylus is it's more accurate with small links and when making fine adjustments on-screen than using a meaty finger. I find myself using the Pencil for lots of things other than note-taking.
Overall I like the Apple Pencil and the effect on-screen is extremely realistic, but the writing experience takes some getting used. Writing with a hard plastic tip on glass feels a lot different than writing on paper.
Using the iPad to take notes has given me a new level of appreciation for devices like the Remarkable and the Sony Digital Paper devices where the writing experience is more paper-like. The iPad is much more versatile and it costs less than E Ink notepads, but from a pure writing perspective it can't come close to the natural feeling of writing as those type of devices. A matte screen protector may help some, but they also make the screen appear less sharp, and personally I've never liked screen protectors and haven't had a problem with scratched screens anyway.
Apple iPad Pencil Video Review