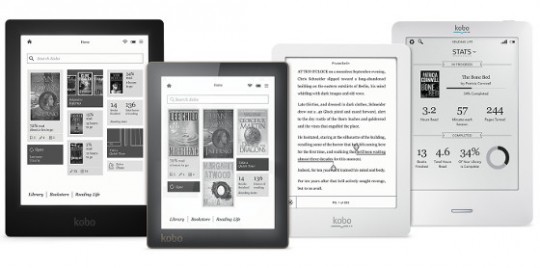 At current count, Kobo has released 14 different ebook readers over the past eight years, including the new Kobo Clara HD that was just released a couple of days ago.
That's a lot of different models to keep track of, especially since many of them look very similar to each other. But at least Kobo uses different names for each model, or they at least stick a 2 at the end, unlike Amazon where they keep reusing the same Kindle name with a new model every few years.
Luckily Kobo has a list of Kobo models and how to tell them apart in the help section of their website.
They list a couple of distinguishing characteristics for each model, along with a corresponding model number.
Looking up the model number is the easiest way to find out which model you have. You can find the model number on the bottom edge of your Kobo ereader.
Kobo Model Numbers
Kobo Clara HD – N249
Kobo Aura H2O Edition 2 – N867
Kobo Aura ONE – N709
Kobo Aura Edition 2 – N236
Kobo Touch 2.0 – N587
Kobo Glo HD – N437
Kobo Aura H2O – N250
Kobo Aura – N514
Kobo Aura HD – N204B
Kobo Glo – N613
Kobo Mini – N705
Kobo Touch – N905, N905B, or N905C
Kobo Original – N416
Kobo Wireless – N647 or N47B
See Kobo's help section for more details about each model. Unfortunately the images are currently broken on that page (they were working last week when I bookmarked the page) but if you click the device's name at the top of the page it will direct to the main help section with a picture of each model. I also added links to the reviews for each model above that include pictures and a video review.