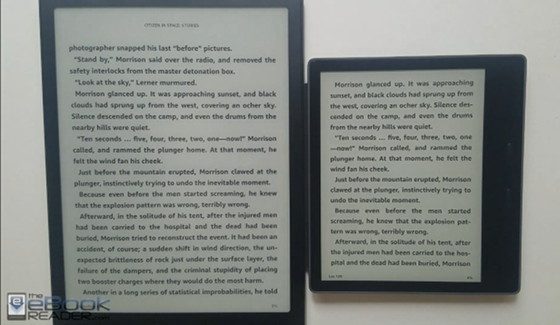 Here's a comparison video between the 7-inch Kindle Oasis 2 and the 10.3-inch Onyx Boox Note.
It's not a typical comparison review because I doubt many people are trying to decide between getting a Kindle and an Onyx Boox Note since they're very different devices with a big price gap between them, but they do both have E Ink screens and both share the ability to display Kindle ebooks.
In some ways the Onyx Boox Note is kind of like the large screen Kindle that we've been waiting for since it can install the Kindle Android app.
And unlike most Android ebook readers the Kindle app actually works fairly well, albeit a bit slower than on a phone or tablet.
The downside is the Kindle Android app isn't as advanced as a dedicated Kindle, and the app isn't optimized for E Ink screens. It doesn't have boldness settings and there's no option to use custom fonts, for example.
But it's nice having a larger E Ink screen to read Kindle books on; I don't understand why Amazon continues to only offer Kindles with smaller 6 and 7-inch screens.
The problem is Amazon tried the large screen Kindle experiment way too soon with the Kindle DX back in 2010. The hardware and software simply weren't ready to deliver at that time. The Kindle DX didn't even have a touchscreen, and the software simply wasn't optimized for large form content like PDFs and textbooks. The Onyx Boox Note proves that things have changed a lot since then and that E Ink devices are more than capable of handling a variety of ereading and note-taking tasks.
I strongly feel that Amazon should start offering large screen Kindles again. A 10.3-inch Kindle Note could be a great device.
Kindle vs Onyx Boox Note Comparison