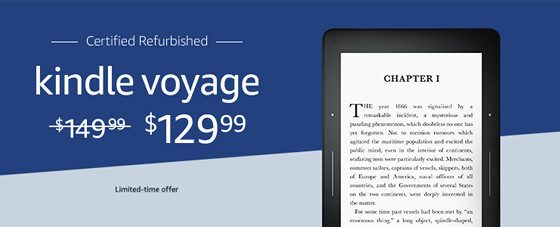 If you like the new 7-inch Kindle Oasis 2 but you don't like the high price, Amazon has started selling certified refurbished units at a discount.
The refurbished Kindle Oasis 2 starts at $209 for the 8GB WiFi model with Special Offers. They also have the 32GB model for $239 and the version with free cellular connectivity is $279.
The WiFi models are $40 less than the regular price of a new Oasis and the cellular model is $70 less.
Amazon also has refurbished Kindle Voyages on sale for $20 off the usual price.
The WiFi Kindle Voyage is $129 and the 3G Kindle Voyage is $149.
That's $70 less than the price of a new WiFi Kindle Voyage, and it's the only way to get the 3G version since they stopped selling new ones months ago.
This is also the last day that Amazon will be offering the Kindle and Kindle Paperwhite on sale for Father's Day. Both are $20 off the regular price.
Also don't forget the Kindle Trade-in promotion where you can get 25% off the price of a new Kindle when trading in an old one.