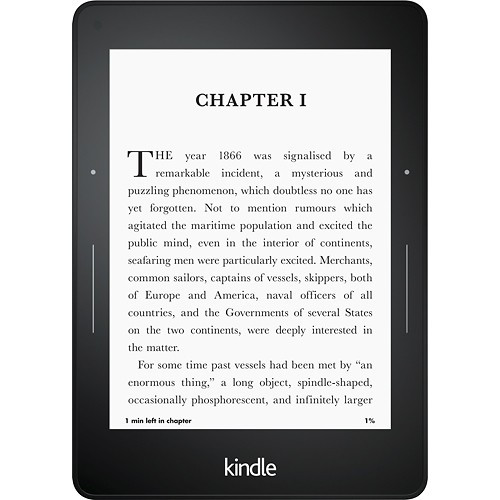 The Kindle Voyage looks like it might be on the way out. Most of the model versions are out of stock; the 3G model is currently unavailable and the non-ad versions are sold out too. In fact the only version available to purchase right now is the Wi-Fi Kindle Voyage with ads for $199.
So that leaves just one out of the usual four options available. When several Kindle variations start becoming unavailable at the same time it usually means something is about to change.
The same thing happened last fall with the 1st gen Kindle Oasis when most of the model variations went out of stock.
Then a couple months later it was replaced by the Kindle Oasis 2.
Of all the Kindles available, the Kindle Voyage is the one most due for an update. It was released back in 2014, making it the oldest Kindle in the current lineup.
It used to be the premium Kindle before the Oasis came along, but now it's starting to look more outdated, especially at the $200+ price point for a 6-inch model.
There's also the fact that the Kindle Voyage can't play audiobooks, and that's kind of a problem when it's supposed to be a premium Kindle for the price it sells for, especially when the lower-end Kindle that's on sale for $59 right now can play audiobooks.
But the big question is will Amazon release a Kindle Voyage 2 or do something different?
The Kindle Paperwhite is due for an update too, and I could see Amazon basically combining the two into a single new model.
There's no reason a nice 6-inch ereader has to cost as much as the Voyage. Look at the previous Nook Glowlight Plus. It had 300 ppi and a flush glass screen just like the Kindle Voyage but it added waterproofing and a metal back and still it was only $129.
Either way, it looks like things are about to get interesting…