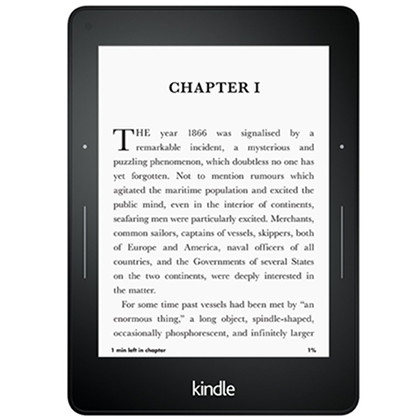 Amazon has just dropped the price of the Kindle Voyage by 25%, taking the price from $199 down to $149.
It's unclear if this is a permanent price decrease or a temporary deal, but they aren't advertising it as being on sale. It's labeled as if $149 is the regular price.
Usually with a sale they put a line through the regular price and show how much of a discount you're getting, but not this time.
Amazon does this kind of thing every once in awhile. I think they're probably doing some tests to see how sales compare at the two different price points.
Either way they're definitely up to something. A couple weeks ago they removed the basic Kindle from all the Kindle pages and search results. Then they brought it back a couple days later. They had to be doing some kind of testing to go through all that trouble.
The Kindle Voyage will be 4 years old this fall so a price decrease makes sense, especially if they're going to release new Kindle models soon.
Maybe they should just permanently drop the price of the Kindle Paperwhite to $99 or $89 and make it the entry-level model. They have it on sale every few weeks anyway.
Then they could release a new Kindle Voyage in the $150 price range. It doesn't really make sense to have the Paperwhite at $120 with the superior Voyage only $30 more.
Certified refurbished Kindle Voyages remain on sale as well. The Wi-Fi model is $129 and the 3G model is $149.