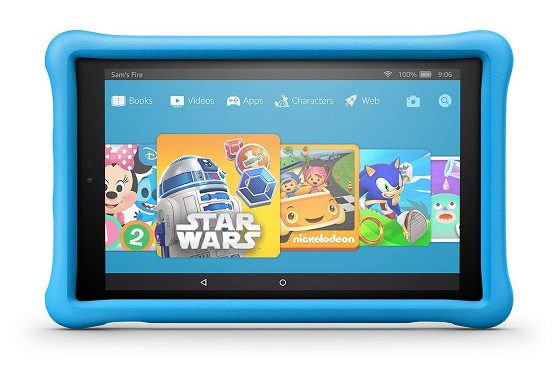 A few days ago Amazon announced that they're going to start offering a Kids Edition of the Fire HD 10 in a couple of weeks, so now all three sizes of Fire tablets will have a kids model.
The Kids Edition tablets are the same as the regular Fire tablets except they come with a bumper case, a 1-year subscription to FreeTime Unlimited, and a 2-year warranty.
The warranty covers accidental breakages so it's a good option for kids.
The FreeTime Unlimited subscription is designed for children ages 3-12, and it provides access to a collection of over 15,000 kid-friendly apps, games, videos, books and other educational content.
The size is a bit of a concern for younger kids, though. The Fire HD 10 is fairly large and heavy, and it's absolutely massive with the kid-proof case. Together they weigh in at a hefty 660 grams.
The Fire HD 10 Kids Edition will retail for $199 and it's available in pink, blue, and yellow. The release date is set for July 11th.
$200 seems a bit steep for a kids tablet but Amazon is selling 2-packs for $299 for a limited time. That's not bad considering the regular Fire HD 10 sells for $149.
via: Amazon