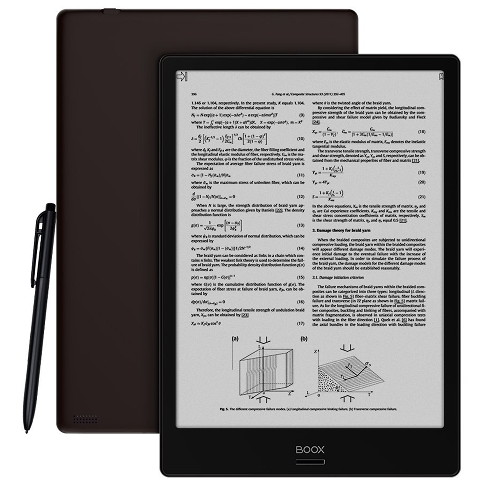 With the 1.9.0 firmware update that Onyx released yesterday, both the Onyx Boox Note and Max2 now have a new redesigned note-taking app called Knote (that's what Onyx calls it, but it's just labeled "note" on the device).
The app is designed to be used for handwritten notes and drawings using the included stylus pen. The Boox Note and the Boox Max2 both have Wacom touchscreens so other Wacom styluses work as well.
Speaking of the stylus, the 1.9.0 update also made is so you can press the button on the stylus to activate the eraser.
This makes it easier to use the new "moving eraser" option to erase fine details instead of full strokes.
You can still use the other end of the stylus as an eraser as well.
When I reviewed of the Boox Note last month the notes app had less features and a different UI, so I wanted to post a video showing how the new note app works.
They added some new features, including full screen mode, thumbnail view, moving eraser, white ink, and the option to use custom templates.
One of the best new features is the ability to sync your notes with cloud services like Dropbox, Evernote, and Youdao.
I like the Dropbox syncing option that saves your notes in PDF format to a Dropbox folder. It makes it easy to access all of your notes wirelessly on other devices.
They also made it so you can switch the sidenote feature to the left side of the screen to write left-handed.
As mentioned before, there have been some reports of the stylus causing light scratches on the screen of the Note and Max2, so if you're going to be doing a lot of writing make sure to install a screen protector first.
New Notes App Review