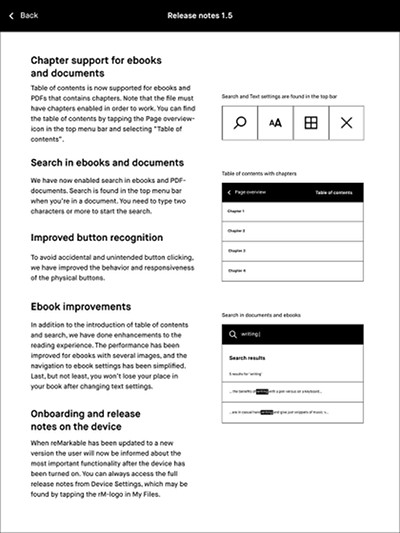 The ReMarkable is a digital notepad and ereader that supports PDF and ePub formats. It was first released in September 2017, and it was the first device to come with a 10.3-inch E Ink screen.
Until now it has been primarily a digital notepad, with very basic reading features, but now there's a software update that adds some new functionality to the ReMarkable's reading app.
Software version 1.5 adds table of contents support to ebooks and PDFs to help make it easier to navigate files.
The update also adds in-book search so you can run searches in ebooks and documents.
According to the changelog, they've improved button recognition as well to help avoid accidental presses. And they've made some other improvements to the ebook app to increase performance and simplify navigation.
My ReMarkable isn't detecting the 1.5 update yet, but they'll probably start rolling out the update soon since it's listed on their support website.
They just updated to version 1.4 a couple of weeks ago and said a second update would be coming a few weeks later. The 1.4 update added some new notebook settings, a new template view, flight mode, the ability to factory reset, and some other things.
Even with the 1.5 update the ReMarkable's reading app has a long way to go before it can compete with other dedicated ereaders that have more advanced reading apps, like the similar Onyx Boox Note, but it's good to see that ReMarkable is continuing to update their device to add more features.