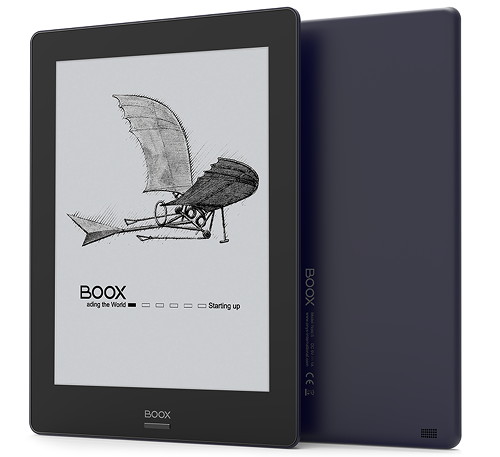 The 9.7-inch Onyx Boox Note S is another new large-screen ereader and digital notepad from Onyx that is scheduled to get released soon.
Onyx recently added a description page for the Boox Note S on their website with a complete list of specs and a selling price of $389.
The price is quite a bit lower than the 10.3-inch Boox Note at $549, but the Note S comes with some significant downgrades.
It has half the storage space and RAM, it has a lower-grade Hanvon touchscreen instead of Wacom, it has a smaller battery, it's about 75 grams heavier, and the screen resolution is considerably lower at 150 ppi.
On the positive side, the Note S has a quad-core CPU and it runs Android 6.0. They also added a flush front screen and a USB C port.
The overall design of the Note S is similar to the previous N96 models with the larger bezels and 9.7-inch screen, except they removed the page and menu buttons and the microSD card slot.
Unfortunately there's no frontlight on this model as earlier reports suggested. Perhaps they'll add a frontlit version later like they did with the N96, but that remains to be seen.
Onyx Boox Note S Specs
Screen: 9.7″ Carta Screen with cover lens
Resolution: 1200 x 825 Carta (150dpi)
Touch: Hanvon digitzier with stylus + capacitive touch
CPU: 1.6G Quad-core
RAM: 1GB LPDDR3
Storage: 16GB
OS: Android 6.0
Wireless: Wi-Fi + Bluetooth 4.1
Slot: Type-C
Keys: Power, Back
Battery: 3000mAh Polymer Li-on
Mic, Speakers
Size: 249 x 177 x 8.2mm
Weight: ≤ 410 grams