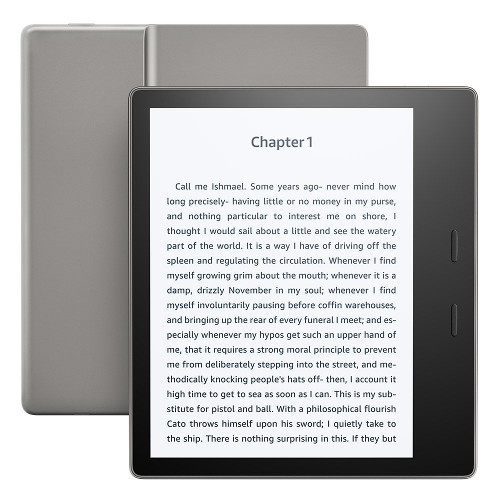 Amazon currently has the new waterproof Kindle Oasis 2 marked down to $199 for a Lightning Deal. It's regularly priced at $249 so that's 20% off.
The deal is only available for a few hours or until the Lightning Deal is fully claimed.
The gray version with 8GB of storage is the only one being sold as part of the deal, not the 32GB model or the gold Oasis.
It has Special Offers (ads on the homescreen and lockscreen) at that price, but you can pay $20 to have the ads removed, as with all Kindles. Some people complain about the ads to customer support and they remove them for free. Either way you can get rid of "Special Offers" if you don't want them.
This is the first time that Amazon has put the 2nd generation Kindle Oasis on sale. They almost never put the Oasis line on sale, so it's kind of surprising to see this now.
It makes you wonder if they're going to put it on sale for Prime Day too. They're expected to put the Paperwhite on sale for $79, but who knows what they'll do with the other models. Last year they put the 1st gen Kindle Oasis on sale for Prime Day, but only the 3G model and it was still over $300—not much of a sale.
Check my full review of the Kindle Oasis 2 for more details about Amazon's latest ebook reader.