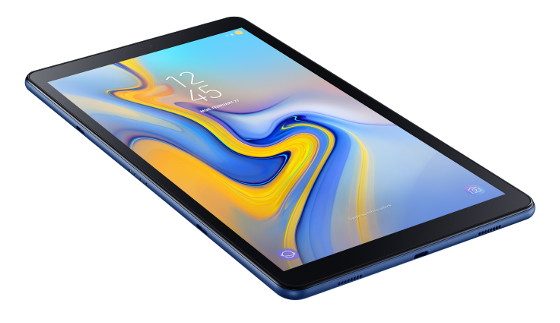 Earlier this month Samsung unveiled a new 10.5-inch Galaxy Tab A, and they've started rolling it out in various markets.
The Samsung Galaxy Tab A 10.5 is available on Amazon for $329, except it's temporarily out of stock at the moment.
That's the same price as the 2018 iPad, but unfortunately it doesn't support Samsung's S Pen—you have to shell out $649+ on the upgraded Galaxy Tab S4 for that.
The 2018 9.7-inch iPad supports using the Apple Pencil for writing on the screen; too bad Samsung didn't match that feature on their less expensive model too.
The Galaxy Tab A 10.5 has a full HD screen with a resolution of 1920 x 1200 (216 ppi) and it runs Android 8.1 Oreo.
Under the hood it has a 1.8GHz octa-core processor with 3GB of RAM and 32GB of storage space. Plus it has a microSD card slot that supports cards up to 400GB.
The tablet comes equipped with four speakers, an 8MP rear camera with flash and a 5MP front camera, it has a USB-C port, Wi-fi, Bluetooth, and it packs a sizeable 7,300 mAh battery.
It's being marketed as a family tablet. It has Kids Mode and Multi User Mode to use multiple accounts on the same device, and it can be use to control home appliances via SmartThings.