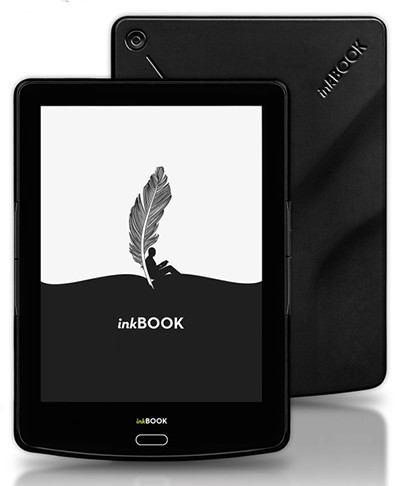 InkBook has been busy updating their line of ebook readers lately. They just released the new entry-level InkBook Lumos, and there's the 7.8-inch InkBook Explore coming out soon, not to mention the 10.3-inch InkBook Infinity.
Now they've just released an upgraded version of their best-selling model, the InkBook Prime. The new HD model adds a higher resolution 300 ppi E Ink screen and a frontlight with adjustable color temperature.
The overall design and specs appear to be the same as before, aside from the screen and frontlight upgrade.
It has a quad-core CPU with 512MB of RAM and 8GB of storage space, with a microSD card slot for expansion.
It has Wi-Fi and Bluetooth and a 2000 mAh battery, and it weighs 165 grams and measures 159 x 114 x 9 mm.
Like other InkBooks, it supports EPUB and PDF, including ebooks with Adobe DRM, and it also supports MOBI, TXT, FB2, HTML, RTF, and CHM formats.
I reviewed the InkBook Prime last year. The design is quite nice and with the quad-core processor it's pretty fast and responsive, but the old Android 4.2.2 software is limited and the built-in reading app is very basic.
I just got the InkBook Lumos yesterday to review, and it's interesting how InkBook's adjustable frontlight color is completely different than Kobo's ereaders and the Nook GlowLight 3 with the same feature. It doesn't have the orange light at all; it goes from a bluish color to a light yellowish color. It's much more subtle than those other devices.
They're currently selling the InkBook Prime HD for €139 from the InkBook website. It'll probably turn up for sale on Amazon soon with the other InkBooks.