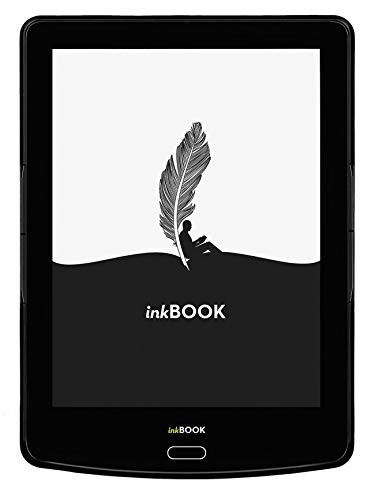 The folks at InkBook recently released a new version of the InkBook Prime and it's already turned up for sale at Amazon.com for $129 with free shipping.
The new model is called the InkBook Prime HD. It has an upgraded 300 ppi E Ink screen (as opposed to the 212 ppi screen on the previous model) and it also adds a frontlight with adjustable color temperature.
Aside from that the remaining specs are the same as the previous model, and it still has the same design with a flush glass screen and page buttons on each side.
It uses a quad-core processor with 512MB of RAM and 8GB of storage space, plus there's a microSD card slot for cards up to 32GB.
It runs a customized version of Android 4.2.2 called InkBook OS. It doesn't have Google Play but it can install a few apps if you sideload them, including the Kindle app.
It supports a variety of formats, including ePub and PDF, and ebooks with Adobe DRM.
I reviewed the regular InkBook Prime last year, and it doesn't appear that anything has really changed apart from the screen and frontlight. It still runs the same software that appears to be mostly the same as the software on the InkBook Lumos, which I'll be posting a review of tomorrow.