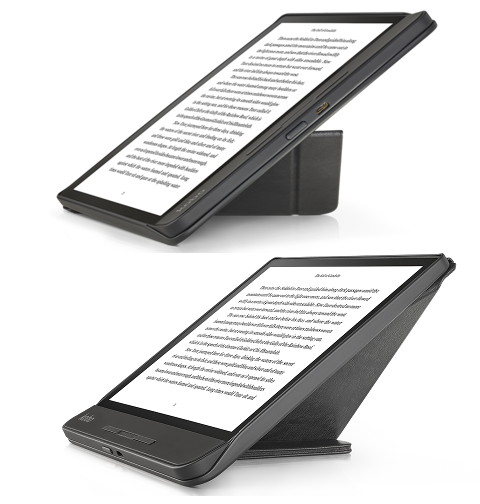 Kobo officially announced their latest ebook reader earlier this week, the Kobo Forma. It has an unusual shape and design, and it's the first Kobo ereader to emphasize reading in landscape mode by rotating the screen.
The Kobo Forma has a unique sleepcover that accommodates reading in both portrait and landscape mode.
It has a creased front that can be folded into a stand to read in either portrait or landscape hands-free.
This is the first ereader cover I've seen that can do both. Usually the stand feature only works for portrait mode.
I really like the sleepcover for the Kobo Clara HD, and it works well as a stand (but only in portrait mode; the Forma is the first Kobo to offer landscape reading).
The angle is different with the Forma's cover, however. It's less upright in both orientations, and it doesn't look as sturdy as the Clara HD's cover in stand mode.
The Kobo Forma sleepcover is available in black and plum, and it sells for $50.
The dual-stand feature looks cool but personally there's no way I'm paying $50 for an imitation leather cover.