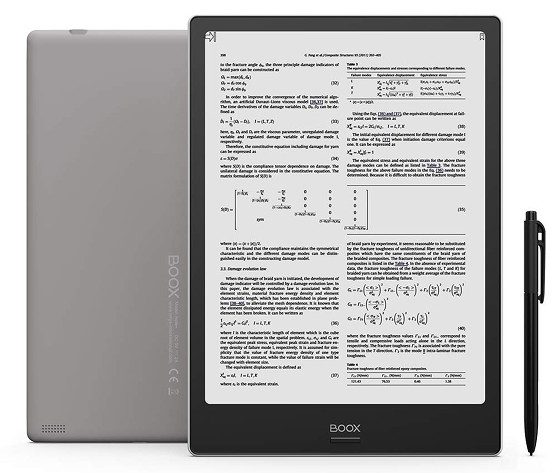 Onyx has released a new version of their 10.3-inch Onyx Boox Note that adds a flush glass screen for extra durability.
The Onyx Boox Note Plus is now available to purchase at Amazon for $569. That's $20 more than the regular version.
The Note Plus still uses a flexible plastic-based E Ink screen like the original Note, but they added a top layer of glass over the front of the screen.
Aside from that, all the other specs and features remain the same.
But the glass does add some extra weight. Onyx lists the weight of the Note Plus at 360 grams compared to 325 grams for the regular Note.
In my review of the Onyx Boox Note, my biggest complaint was the build quality could be better, and it's possible to leave indentations on the screen if you press overly hard with the stylus. The rigid glass front should eliminate that, but the only downside is writing on glass feels a lot different than writing on a flexible surface with some give.
Personally I really disliked the glass screen on the cheaper Onyx Boox Note S, but the glass does have the advantage of being more durable and scratch-resistant, so if that's something you're worried about the Note Plus is probably the better option.
On the listing page at Amazon make sure not to overlook the "special offers" section because the Note Plus comes with some free gear, including a cover, a screen protector, a charger, and replacement stylus tips, but you have to remember to add each to your cart separately before buying because they aren't automatically included with purchase.