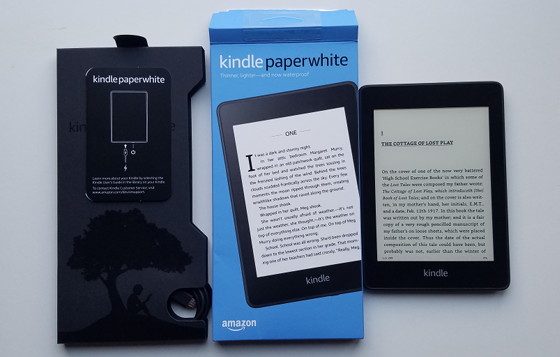 Today is the official release day for the new Kindle Paperwhite 4. Pre-orders have started arriving today for those with Amazon Prime and those that opted for 2-day shipping.
The Kindle Paperwhite 4 adds more storage space, with the option for 8GB or 32GB, and it has Bluetooth for audiobooks and VoiceView (a specialized version of text-to-speech that reads all screen content aloud for those with vision problem).
It's basically a cross between the Kindle Voyage and Kindle Paperwhite 3, but it doesn't have the page sensor buttons like the Voyage.
It's also waterproof and lighter than the previous Paperwhite, and it has an updated design with a flush front screen.
Otherwise it's still mostly the same as the Paperwhite 3. It's a little smaller and lighter but it has the same general shape and the back has the same light rubbery coating on it.
All the main reading features are the same, except the new Paperwhite adds inverted mode for white text on a black background like the Kindle Oasis.
I also noticed that it has the option to disable the touchscreen while reading, which seems odd since the Paperwhite doesn't have page buttons like the Kindle Oasis. What it does is it still recognizes swipes to turn pages but not taps and all other touchscreen interaction is disabled so your thumb can rest on the screen without causing any problems.
The frontlight looks nice and even—like the earlier Paperwhites there's just a slight shadowy band at the bottom of the screen where the LEDs are located. But unlike previous Paperwhites, the light can be turned off at the lowest setting.
I opted for the water-safe fabric cover and I like the feel of it. It's the same kind of material as the short-lived fabric cover for the 2nd gen Kindle Oasis.
Stay tuned for a full review of the new Kindle Paperwhite. I'll get a video review posted soon showing it in action, along with some comparison reviews.
For those wondering, it's the 4th generation Paperwhite model, but Amazon refers to it as the 10th gen Kindle because it's the tenth generation model overall, so when shopping for covers and accessories make sure they specifically fit the 10th generation Paperwhite.