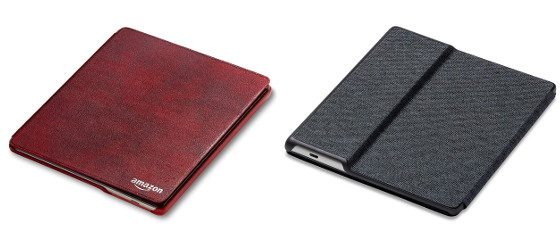 With the release of the new Kindle Paperwhite, Amazon has also started taking pre-orders for new Kindle Oasis 2 covers that are getting released on November 14th.
It took them a full year but Amazon has finally come out with some new official Kindle Oasis covers. They're a lot different than the original covers that were released last year when the Kindle Oasis was first released.
They have a water-safe fabric cover for $39 with color choices of black, blue, and red.
And they have a leather cover for $49 available in black and merlot.
The new covers are more like the CaseBot cases where they wrap around the sides and back to offer more protection.
The original Kindle Oasis cover was just basically a flap with a magnet on it that only covered the front and part of the back.
It's funny because so many people complained about how weak the magnet was and how the cover didn't offer any protection that Amazon stopped selling the covers shortly after they were released. The fabric covers had a 2.2 star rating and the leather covers had a 2.5 star rating so apparently that was bad enough for Amazon to stop making them entirely.
Ever since then Amazon has been recommending CaseBot cases in the add-on section of the Kindle Oasis product page, but now they're finally advertising their own covers. It's about time!