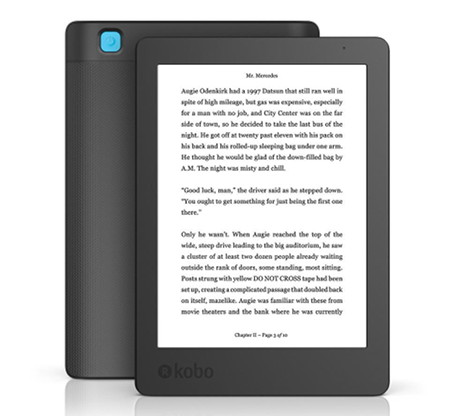 In case you didn't see the comment on the Black Friday Deals list from a couple of days ago, you might have missed the best deal of the year for a dedicated ebook reader.
Walmart currently has the Kobo Aura Edition 2 marked down to just $49 with free shipping.
That makes Kobo's current "sale" price of $89 seem like a joke.
You almost never see an E Ink ebook reader priced in the $50 range, especially one with a frontlight.
Occasionally Amazon will put a low-end Kindle on sale in that price range, one with a low-resolution screen and no frontlight, and then you have to pay $20 extra to remove the annoying ads.
The Kobo Aura 2 is a 6-inch ebook reader with a 1024 x 758 resolution display (that's 212 ppi). It has 4GB of storage space, WiFi, and an infrared touchscreen. It has a built-in frontlight, but unlike the other Kobo models it does not have the kind of frontlight where you can adjust the color temperature.
For the most part it has all the same software features as the more expensive models, including the option to download library ebooks from OverDrive directly to the device without having to deal with the Adobe Digital Editions nonsense.
See my Kobo Aura 2 review for more information and a video walkthrough.
The Kobo Aura 2 doesn't have a 300 ppi screen or a color adjusting frontlight, but for $49 brand new it's a steal. It originally sold for $119, and Walmart has been selling it for $99 since they started carrying it a few months ago. It's unclear how long the sale will last but it's likely to remain active through Cyber Monday, at least.