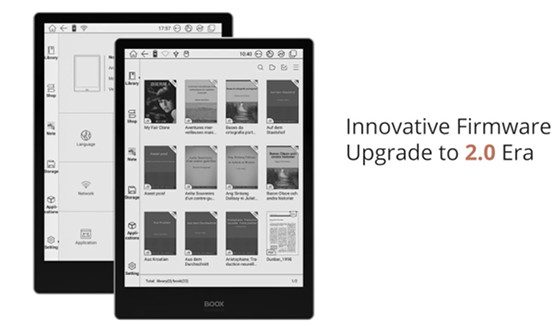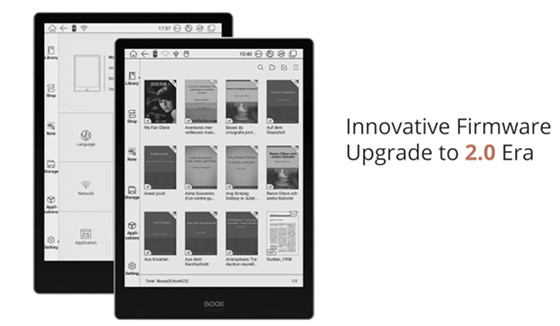 Onyx has officially released a new fairly major software update for the Onyx Boox Note models (Note 10.3, Note S, Note+) and the Onyx Boox Max2.
The new 2.0 software version adds a new user interface and some new features, including a number of new options with the notes app and they finally added two-page landscape view.
You can find the update files on Onyx's website, or you can auto update from the settings menu on your device.
I installed the update on my Onyx Boox Note over the weekend and so far I absolutely hate it.
The text seems thinner and more washed out, for one. The new shop section is just pointless nonsense to anyone who doesn't read Chinese.
The Kindle app no longer works. It loads fine but page turns don't register anymore, rendering the app useless.
Google Play is gone and you have to go through the hassle of setting it up again. Dropbox was removed from Note syncing so I had to set that up again too. There are some other minor annoyances as well that makes the new software seem rather amateurish, but I'll give it a week or two before deciding to go back to the older software or not.
If you missed the earlier post, it includes a short video showing off some of the new features.
Here's the list of changes with the 2.0 update, weird formatting and all:
System
New UI, easier to switch the tabs to content area;
Add JDRead Shop, provides authorized e-books ;
More app optimization options including font, contrast, animation filter, refresh mode,etc;
Third party apps freezing(closed by default, need to turn it on) makes device more fluent, stable and powersaving;
Wifi Transfer, wireless books transfer from PC and mobile to device without limit of format and size;
Power percentage display on notification bar;

Neo Reader 2.0
Add double page spreading function(only for Max2 and Note series);
Fix the bugs of pressure deficiency and jag problem after exporting PDF file with annotation. Printing supported;
Optimize file default font, spacing and others(custom setting not included)
Fix the bug of cannot opening files in CBR\PNG\JPG format;
Fix screen blink when using TTS;

Note
Add handwriting searching function(corresponding language package required);
Add note text reflow function, cancel vector writing(the original vector is saved but not editable);
Handwriting can be selected, zoomed, moved, rotated, copied;
More note management options. Note file can be moved, copied, PDF combined export;
Fix the bugs of notes losing after auto sleep and auto power off.