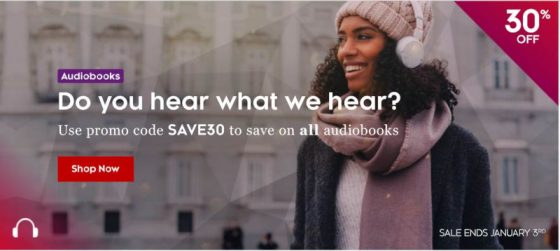 Kobo is currently having a big sale on audiobooks from now until January 3rd.
Kobo is mostly known for selling ebooks but they've been selling audiobooks for the past year as well.
You can get 30% off all audiobooks at Kobo with coupon code SAVE30.
If you like listening to audiobooks this is a good way to save some cash on individual titles.
Kobo also offers a monthly audiobook subscription service for $9.99 per month, which isn't on sale but you can get one audiobook for free with the trial if you haven't done so already.
Checking the prices of some popular audiobooks at Amazon/Audible, Kobo's prices are sometimes lower even without the 30% off coupon, and some are a bit higher but it comes out less with the code.
Either way it's worth price-checking to get the best deal.
It's funny how retailers are allowed to offer audiobooks on sale with a sitewide coupon but they aren't allowed to do so with ebooks.