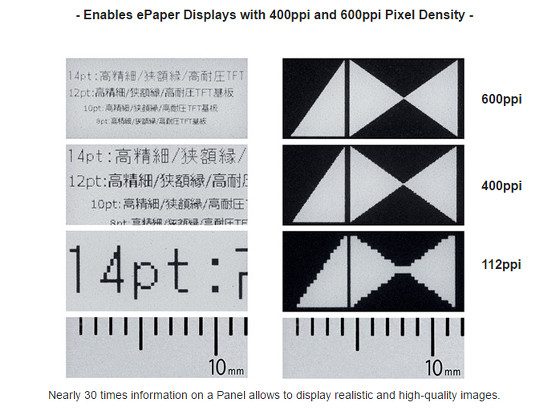 Back in 2017 Japan Display announced that they would be working with E Ink to develop higher resolution epaper screens with 400 and 600 ppi.
By comparison most 6 to 8-inch ebook readers like the Kindle Paperwhite and Kobo Clara HD have 300 ppi E Ink screens.
The Kindle Voyage was the first ebook reader to have a 300 ppi E Ink screen, and it was released back in 2014.
Today 6-inch ebook readers are still using that same screen.
Is it time for ebook readers to get a boost in resolution in 2019?
When it comes to phones these days a good share of them have screens with over 500 ppi.
Higher resolution screens have better clarity with sharper text, but the main downside is it requires more power to run more pixels.
When Amazon released the Paperwhite 3 the estimated battery life went down 25% with the 300 ppi E Ink screen compared to the Paperwhite 2 with a 212 ppi screen.
One of the main selling points of dedicated ebook readers is the long battery life so is a decrease in battery life worth an increase in pixel density?
At this point I'd rather see E Ink come out with new screens that have better contrast rather than simply boosting the ppi. Some screens with 300 ppi look much clearer (like the Kindle Voyage) than other screens with 300 ppi because of added layers over the screen like capacitive and frontlight layers that decrease contrast. If they could improve the contrast more then higher ppi screens that drain more battery power wouldn't be necessary.