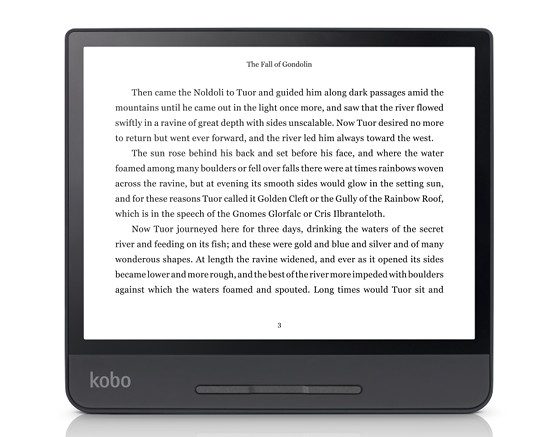 Kobo released the Kobo Forma in October 2018 so it's been on the market for about 4 months now.
Since posting the Kobo Forma review in November, I've had a chance to use the device a good deal and I've come to appreciate it more than I did initially.
At first I was distracted by how the frontlight has a noticeable gradient with a subtle darker edge along the side with the buttons, but that seems to be something that's easy to forget about after awhile, and while the PWM flicker with the frontlight might negatively affect a few people it's not something that bothers me.
Some might argue that you shouldn't have to accept any flaws on an ereader that costs nearly $300 (over $300 if you go with the 32GB model), and while that is true, there really aren't any frontlights that are "perfect" so it's hard to fault Kobo too much for that.
At first I also really disliked the fact that Kobo added a "swipe to unlock" screen when turning the device on, but lucky there is a way to easily get rid of that requirement.
The Kobo Forma definitely isn't pocket-friendly with the 8-inch screen and offset design, but I do like how text lays out on the larger screen and the device is surprisingly lightweight for its size.
I also really like the page buttons and I like how the rubbery material on the back isn't cold and slick like the metal on the Kindle Oasis. The Kobo Forma doesn't look as nice as the Oasis but it is more comfortable to hold.
Kobo took a gamble with the Forma by doing something completely different than they've done before. It has a totally different design than previous Kobo models and it's the first ebook reader ever to feature an 8-inch flexible screen, which is lighter and more durable than a typical glass-based E Ink screen.
It's nice to see Kobo taking a chance and doing something different. I wonder if other companies will start using the same flexible 8-inch screen as the Kobo Forma. Kobo was the first company to offer an ebook reader with a 7.8-inch screen on the Kobo Aura One, and now there are several 7.8-inch ereaders on the market.