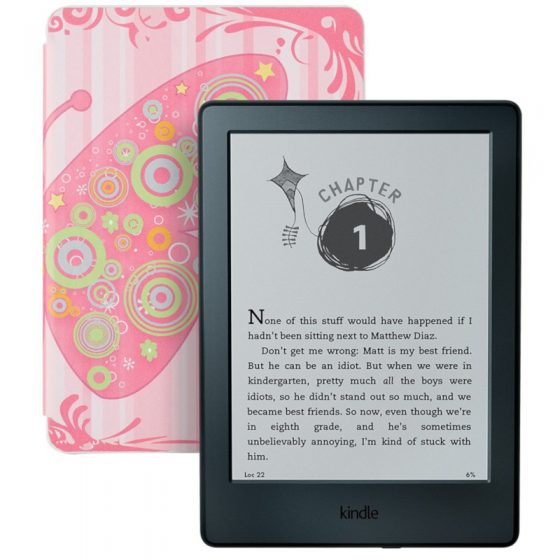 Amazon currently has the Kindle for Kids bundle on sale for $59—that's its lowest price ever. The regular price is $99. They used to put it on sale for $79 and few times it was $69 but $59 is a new low.
It includes the 2016 Kindle that was just replaced by the new entry-level Kindle with a frontlight, so they're probably trying to clear out remaining stock of the older model.
If you want a cheap Kindle without a frontlight for reading outdoors this summer it's not a bad option at $59.
The kids Kindle is the same as the regular Kindle—it just comes with a cover and a better warranty that covers accidental breakages and lasts for 2 years instead of the standard 1 year.
It's also worth noting the kids model doesn't come with Special Offers (ads) so you don't have to pay an extra $20 to get rid of them.
The Kindle for Kids bundle never was very popular. Probably because it's not really a kids Kindle at all; it's just a regular Kindle with a 2-year warranty and a cover. It'll be interesting to see if Amazon adds a "Kids Bundle" option for the new frontlight Kindle too.