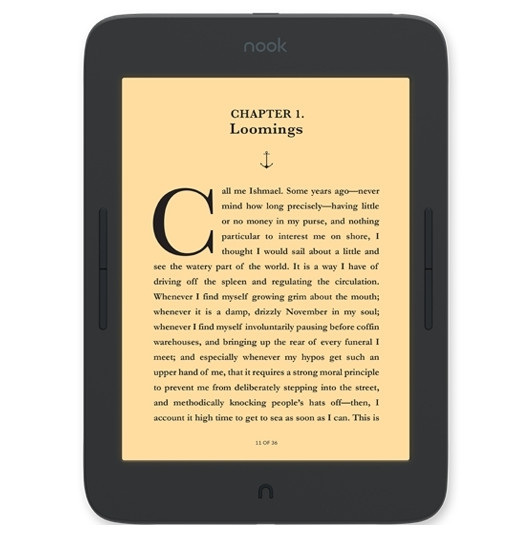 In case you missed it, Barnes and Noble quietly unveiled a new Nook Glowlight Plus last week with a 7.8-inch E Ink screen.
It was only available in stores for the first couple days after it was released, and now it's available to purchase online from B&N's website for $199 with free shipping.
The new Nook Glowlight Plus has a 7.8-inch E Ink Carta screen with 300 ppi and a frontlight with warm and cool color temperatures.
It's also waterproof, and it has a 3.5mm headphone jack and Bluetooth to listen to B&N podcasts (and probably audiobooks soon).
Other than that it's pretty much a clone of the 6-inch Nook Glowlight 3, which B&N still sells for $119.
The side bezels are a bit smaller than the ones on the Glowlight 3, but as far as 7.8-inch ereaders go the Glowlight Plus is the largest yet at 211 x 150 x 8.7 mm, with a weight of 279 grams. That's pretty heavy for a 7.8-inch ereader. By comparison the 8-inch Kobo Forma only weighs 197 grams with its plastic-based E Ink screen.
The new Nook comes with 8GB of storage, with about 6.4GB usable for Nook content and sideloaded content. It supports ePub and PDF formats, including Adobe DRM.
Unfortunately Nooks are rather archaic when it comes to public library support. There's no wireless option to get ebooks like with Kindles and Kobos; you have to use the old method of using a computer authorized with Adobe Digital Editions to transfer library ebooks to a Nook, and there have been a number of reports of the process not working properly with past Nooks and it's unlikely to be any different with this new one.
It's good to see B&N release a new larger Nook, but if the software is as bad as it was on the Glowlight 3 then it's hardly worth considering if you sideload books. Hopefully they've cleaned up some of the issues. Stay tuned for a full review.
Introducing New Nook Glowlight Plus