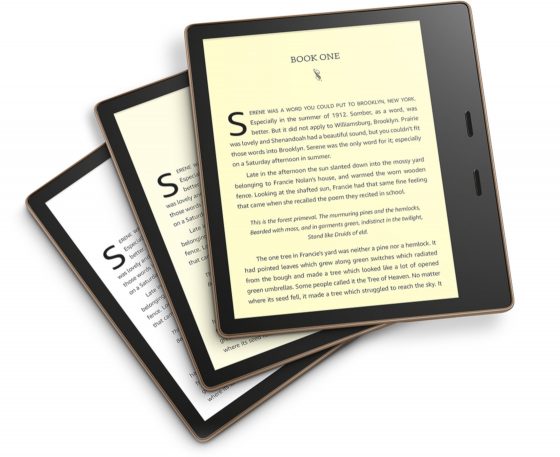 Amazon has just unveiled a Kindle Oasis with adjustable frontlight color.
It appears to be exactly the same as the 2nd gen Kindle Oasis except now it comes with cool and warm frontlights so you can adjust the frontlight color to your preference.
You can adjust the color manually or set a schedule to have it automatically adjust to a warmer color as the day winds down.
This is the first Kindle to offer frontlight color adjustment. Virtually all other brands have the same feature; Amazon finally caved and joined the crowd.
It's available with 8GB or 32GB like before, with silver and gold color choices. There's also a 4G LTE model that sells for approximately one arm and one leg.
The Kindle Oasis has a 7-inch E Ink screen with 300 ppi. It's waterproof and it has Bluetooth for audiobooks.
The description at Amazon says it features "the latest e-ink technology" and "next generation e-paper" but that's probably just marketing speak. There hasn't been any word about E Ink's displays being improved since the 2nd gen Kindle Oasis was first released back in November 2017, but I guess we'll find out soon enough.
They accepting pre-orders for the new Kindle Oasis now. The release date is July 24th. The price starts at $249 like before, and now the regular Kindle Oasis is marked down to $199, probably to help clear out remaining stock as they shift to this newer model.