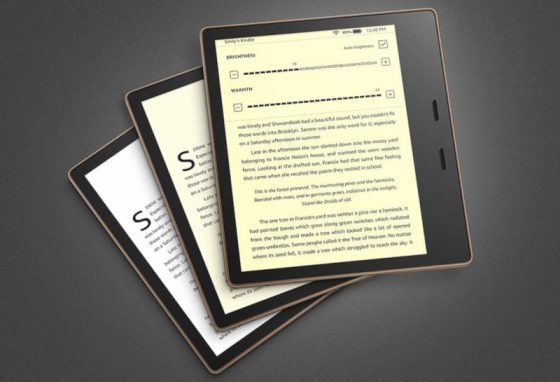 Last week when Amazon unveiled the new Kindle Oasis, it was mainly about the addition of frontlight color adjustment, but they also hinted at improvements with the E Ink screen.
I thought it was probably just marketing hype at first but it sounds the new Kindle Oasis does indeed have an upgraded E Ink screen.
However, it appears the main improvement with the new screen technology is faster refreshing, not anything contrast related since they aren't advertising improved contrast.
First off, Amazon still hasn't bothered to issue a press release about the new Kindle, so that's a bit odd, but an Amazon staff member did post what reads like a press release on the official Kindle forum.
Regarding the screen is says this:
"The new Kindle Oasis comes with the next generation of e-ink technology for fast page turns."
They fail to elaborate any further, but there's a quote from an Amazon rep on this CNET article that reveals a bit more information:
"The new Kindle Oasis introduces the next and improved generation of e-ink, which is faster in common customer scenarios such as getting back into your favorite book from Home or Library, looking up a word, and launching Settings, among others."
So apparently the claims on the product description page for the new Kindle Oasis saying it uses the latest E Ink technology isn't just marketing speak.
But you could argue that the latest screen technology that E Ink currently distributes for ereading devices is their flexible E Ink Mobius Carta screens like the Kobo Forma uses.
E Ink's Mobius screens are a lot lighter and more durable than standard E Ink screens because they have plastic backplanes instead of glass backplanes. Mobius screens can even be twisted and not break. It's extremely unlikely the new Kindle Oasis has a Mobius screen. It sounds like the new screen is just a slightly faster version of the old Carta screens.
Regardless, it'll be interesting to see how the new screen compares to the old screen. Stay tuned for a full review! But the release date of the new Kindle Oasis is still a month away…