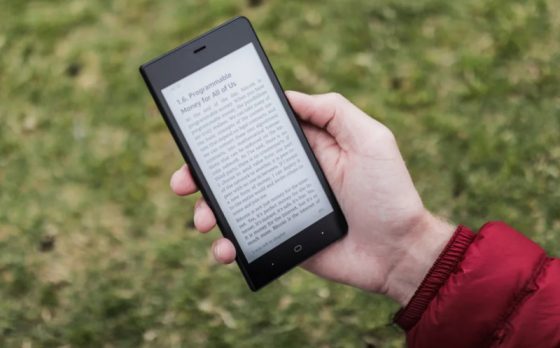 One of the first video reviews showing the new Kingrow K1 smartphone recently turned up on YouTube.
The Kingrow K1 is a specialized Android-powered phone with a 5.2-inch E Ink screen. Unlike regular LCD phones it's easily readable outside in bright sunlight, and it doesn't emit blue light, although it does have a frontlight.
The software is based on Android 8.1 but it does not support Google apps, at least not without some hacking.
The specs aren't impressive, but that's typical with E Ink devices.
It has 16GB of storage space, along with a microSD card slot and a dual sim card slot.
It has a 2.0GHz MediaTek octa-core processor with 2GB of RAM. There's an 8MP rear camera, Bluetooth, and it has a 3100mAh battery. They claim the battery can last over 20 hours for calls and reading.
The video review shows some different apps running on the phone, including the Kindle app, and the refresh rate is pretty good, but I don't know why anyone would get an E Ink phone to play videos and games on it—that's kind of missing the point.
Overall it looks like a decent E Ink phone. Too bad E Ink screens are so expensive. It makes it very difficult for new products like this to get off the ground when the price is so high. If it was in $150-$200 range it would probably be a lot more popular.
They're still accepting pre-orders for the Kingrow K1 on Indiegogo for $299. It's expected to start shipping next month. So far they've raised over $77,000 and the campaign is still active for another 3 weeks.
Kingrow K1 Video Review