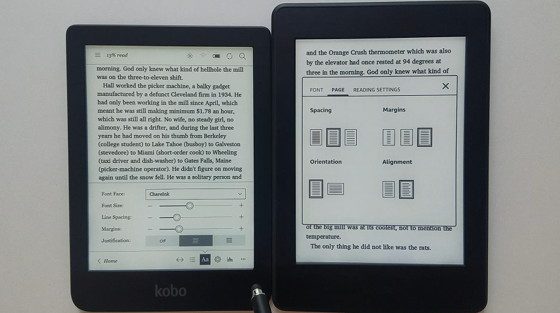 For those considering buying a dedicated E Ink ebook reader for the first time for themselves or someone else, here are a few things to consider.
First off, if you're new to reading ebooks and you aren't sure about making the transition, it makes sense to avoid spending a lot of money on your first device.
A $599 Onyx Boox Note Pro probably isn't going to be the best choice for those new to ereading that haven't used a device with an E Ink screen before, unless you absolutely need the advanced PDF and note-taking features for school or work.
But when it comes to reading simple text-based books without lots of images and complex formatting, inexpensive ereaders are a good place to start.
In many cases the best option for new users is to get a cheap entry-level Kindle or a Kindle Paperwhite. Kindle software is easy for beginners to learn how to use and it's more stable and less prone to problems than some of the lesser-known brands.
The new entry-level Kindle is $30 cheaper than the Paperwhite when they aren't on sale, but the Paperwhite is the better deal with the nicer screen and waterproofing, and it can often be had for less than retail price. Like right now the refurbished Paperwhite is actually $10 cheaper than the regular Kindle, so you're definitely better off getting the upgraded model for a lower price.
Although they are much less popular than Kindles in the US, Kobo's ebook readers are also good for those new to ereading. The Kobo Aura is a nice entry-level model and it sells for only $69 from Walmart, Kobo's US partner. The next model up is the Kobo Clara HD with a higher resolution screen and a frontlight with adjustable color temperature.
Kindles have more advanced features overall—like a vocabulary builder, the option to view tips for harder words, audiobook support, a screen reader (quasi text-to-speech), X-Ray, Goodreads integration, etc—but Kobo's devices have more layout settings than Kindles, and they are more open to hacking and installing other reading apps to add more features, and Kobos have OverDrive support built-in to make borrowing ebooks free from public libraries easy, although the process isn't much harder on Kindles—you just have to use a different device to checkout the book.
So to wrap things up, the cheaper 6-inch Kindles and Kobos are a good place to start if you are new to ereading. The inexpensive Kindles and Kobos have most of the same software features (all the main stuff) as the more expensive models like the Kobo Forma and Kindle Oasis that sell for over $250. If you find out you like reading ebooks on E Ink screens (it's much more pleasant than reading on bright LCD screens) then you may consider upgrading to a nicer device the second time around. The nice thing about ebook readers is they don't become outdated every year; older models remain relevant for 5+ years in many cases.