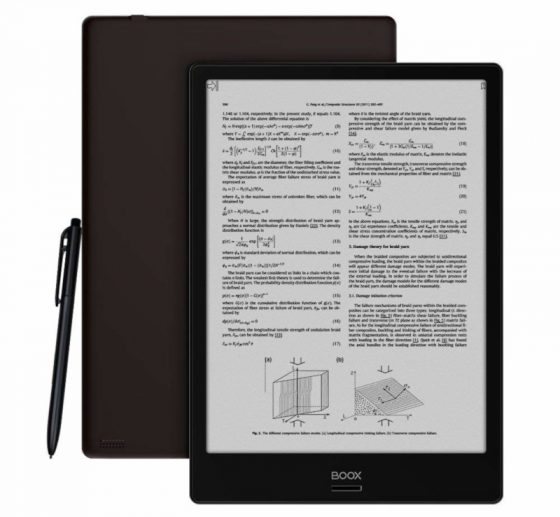 Onyx is currently selling the original Onyx Boox Note for $399 from Amazon.
That's a good price considering this model sold for $549 last year when it was first released.
It makes the price of the Note Pro seem excessive. For $200 more all you get is a frontlight, a flush glass screen, and double the storage space and RAM.
Everything else is the same, including all the software features.
The Onyx Note has a 10.3-inch flexible E Ink screen, along with a Wacom touchscreen and stylus for notes and drawings.
$399 for the Note is a better deal than paying $379 for the Moaan W7 that turned up on Banggood awhile back. It received a lot of hype initially because of the low price, but it was supposed to be available last month and that still hasn't happened yet. The software is a big unknown, whereas the Note has the best Android-based software that's been developed for E Ink ereaders to date, especially when it comes to reading PDF files.
If you don't need a frontlight, $399 is good price for a 10.3-inch ereader and digital notepad, and the Onyx Note is one of the best in that category. It's nice to see the prices continuing to go down on these larger-screen ebook readers.