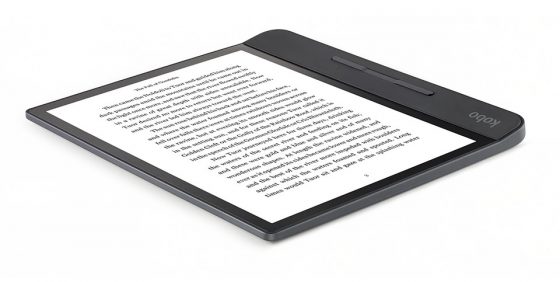 The Kobo Aura One was the first ebook reader to have a 7.8-inch 300 ppi E Ink screen, and it was also the first to have the option to use a warm frontlight.
After Kobo released it most other ereader companies started copying the warm frontlight feature and several new ebook readers were released with 7.8-inch screens soon after—Kobo started both trends.
Kobo could also start some new trends with the Kobo Forma.
As noted in an earlier article, the Kobo Forma is surprisingly nice ebook reader despite some minor faults.
It's the first ebook reader to feature an 8-inch 300 ppi Mobius Carta E Ink screen, and it's also one of the first ereaders under 10″ to have a flexible plastic-backed screen, which helps make it lighter and a lot more durable than typical ebook readers with glass screens.
Because of the plastic-based screen the Kobo Forma is remarkably lightweight for its size. In fact it's lighter than some ebook readers with 6-inch glass-backed screen, like the Kindle Paperwhite 3 for example.
The Kobo Forma was released in October 2018 so there's been plenty of time for other companies to start replicating its unique features. But will they? So far there has been no indication of any new devices getting released soon with 8-inch or smaller plastic-based screens.
Hopefully the trend of plastic-based screens catches on because lighter is better, and with a lighter screen battery sizes could be increased to improve the drop in overall battery life with the prevalence of frontlights and wireless features that come standard on most ebook readers these days.