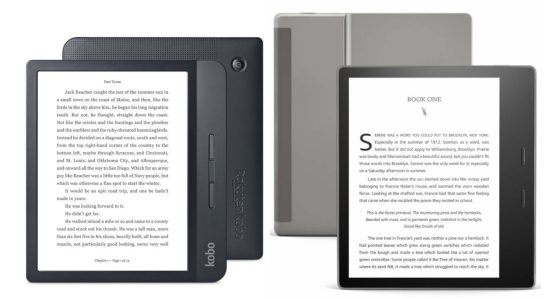 When Kobo first revealed the Kobo Forma last fall, everyone called it a Kindle Oasis clone. As it turns out, the real Kindle Oasis clone is the new Kobo Libra that Kobo just unveiled yesterday.
It has the exact same E Ink display as the Kindle Oasis, which has been the only device to use that specific screen since it was released in 2017, and the overall design concept is very similar to the Oasis as well.
Both devices have a 7-inch 300 ppi screen with adjustable frontlight color, along with page buttons on one side and a rotation sensor to switch hands. Both are equipped with a micro USB port, Wi-Fi, 8GB of storage space, and both are waterproof with an IPX8 rating.
The overall sizes are very similar as well, with the Libra measuring 144 x 159 x 5.0-7.8 mm with a weight of 192 grams.
The Kindle Oasis measures 141 x 159 x 3.4-8.4 mm with a weight of 188 grams.
Given all the similarities between the two devices, you'd think that the price would be about the same as well, but that's where things differ the most.
The Kindle Oasis sells for $249 USD but it costs an extra $20 for the comparable non-ad version so essentially the real price is $269.
The Kobo Libra on the other hand sells for a much more reasonable $169. Forget the Oasis; that's only $20 more than the non-ad Kindle Paperwhite with a smaller screen, no warm frontlight, and no page buttons.
The Kindle Oasis has some advantages over the Kobo Libra, like the fact that it's available with the option of 32GB of storage space, and with 4G LTE wireless. It also has audiobook support and a screen reader to read ebooks aloud. The Oasis also adds a flush front screen and it has a metal back instead of plastic. Amazon's software has some added features as well but that's a topic for a different day.
By virtually all reports, the new warm frontlight feature on the Kindle Oasis 3 is a big hit—everyone seems to like it—but now just two months after its release the Kobo Libra comes along with the same screen and similar design for a whopping $100 less.
If Kobo is smart they'll start showing off the Kobo Libra at Walmart stores so people can check it out in person and see how it compares to Kindles.
Amazon didn't start significantly lowering the prices of Kindles until B&N started releasing Nooks with lower prices. Could Kobo force Amazon to lower Kindle prices once again?