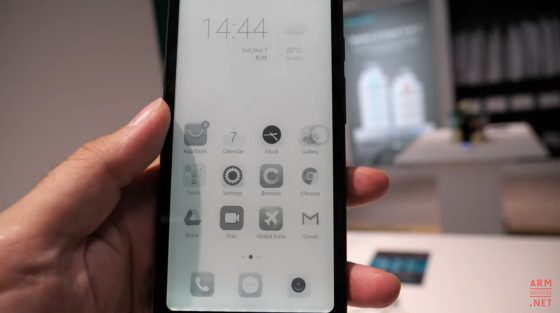 Hisense has released three dual screen smartphones over the past few years that have an E Ink screen on one side of the phone and an LCD screen on the other side.
The Hisense A6 is their most recent model, and now they've got a newer version, the Hisense A6L, with some upgrades.
Hisense also has a new E Ink only model, the A5, that has a 5.8-inch E Ink screen with no LCD screen at all, but it does have a frontlight so you'll still be able to see the screen in the dark.
The phone runs Android 9.0 and it has an octa-core Qualcomm Snapdragon processor.
It has 64GB of storage space and 4GB of RAM, with a 4000mAh battery and front and rear cameras (13MP and 5MP).
The Google Play store and Google apps are shown running on the device so that's a good sign.
In the video the rep says the Hisense A5 is expected to sell for €100 (about $100) when it becomes available later this year, but realistically that doesn't sound right. No E Ink phone has ever been close to that cheap before. It would be great if true but I just don't see it happening. The Kingrow K1 is another E Ink phone that runs Android and it's currently selling for $350.
The Hisense A6L is expected to go for €250, according to the Hisense rep.
Hisense A5 and A6L E Ink Phones