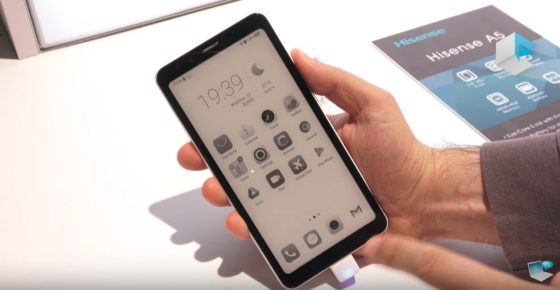 A couple of weeks ago we got the first look at a new upcoming smartphone from Hisense with an E Ink screen called the Hisense A5, along with a new dual-screen A6L model.
Now there's another YouTube video with a closer look at the Hisense A5, although it's not in English. It was posted by Notebook Italia, along with an article with some additional details.
One interesting thing to note is they say it will be available to purchase in Europe from Amazon later this year for €120.
The rep in the first video said it would cost 100 euros, which sounded too good to be true and apparently it was, but €120 is still quite cheap compared to other E Ink phones past and present.
The Hisense A5 has a 5.8-inch E Ink Carta display with a resolution of 1440 x 720. That equates to about 278 ppi.
It has a frontlight but not a warm-colored option.
Other specs include an 8-core processor (a Qualcomm Snapdragon 450), 64 GB of storage space and 4GB of RAM. It has a microSD card slot, USB-C port, Bluetooth, WiFi, a 3.5mm headphone jack, and a rather large 4000mAh battery.
It also has a 5MP front camera and a 13MP rear camera with flash.
The Hisense A5 runs Android 9.0 and it reportedly will come with the Play Store to install apps. In addition to being a phone, it could make a nice pocketable, portable ebook reader with your choice of reading apps installed. It'll be interesting to see how this device turns out.
Hisense A5 E Ink Smartphone
via: Notebook Italia