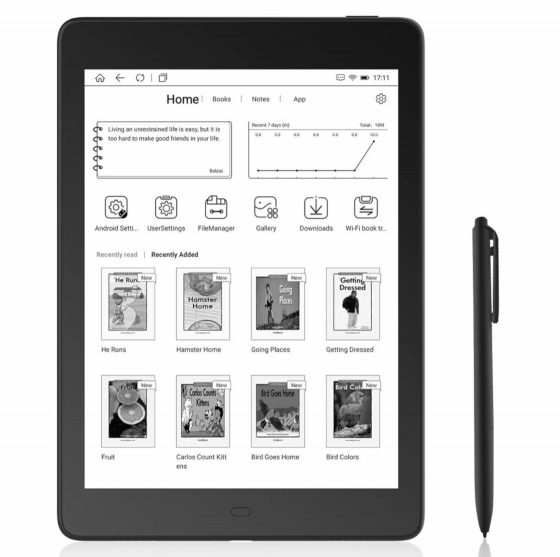 Likebook has just released a new 7.8-inch Android-based ebook reader and Wacom-enabled digital notepad called the Likebook Ares Note to go along with the new 10.3-inch Likebook Alita that turned up on Amazon earlier in the month.
The Likebook Ares Note is currently selling for $319 from Likebook's Amazon store. It's technically a pre-order as it gets released on November 1st, according to the listing.
The Likebook Ares is basically a redesigned Likebook Muses with the addition of a flush front screen and a memory card slot.
Otherwise the specs and software appear to be exactly the same as the Muses that was released earlier in the year.
The Likebook Ares has an 8-core processor, 32GB of storage space and 2GB of RAM. The E Ink screen has 300 ppi and the frontlight has warm and cool color temperatures.
It has a USB-C port, WiFi, Bluetooth, and a 3200mAh battery. It also has dual speakers and a microphone. It weighs 268 grams.
Like other Likebooks the software is based on Android 6.0 and it can install Android apps.
Considering the fact you can get an Onyx Nova Pro for the same $319, the price of the Ares just doesn't make sense.
Likebooks are basically Onyx clones, even more so with these new designs. The problem is Likebook's software isn't as advanced or as polished as Onyx's software, which is superior in virtually every way. The only advantage the Likebook has is the memory card slot, and that might be enough for some folks.