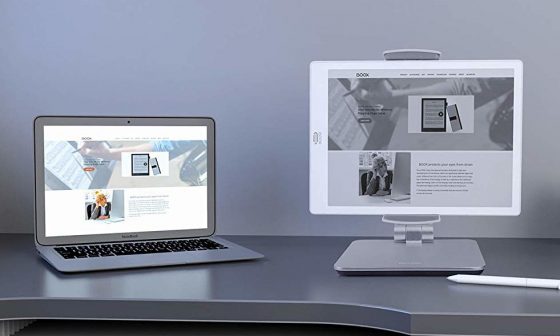 There's been a growing narrative surrounding the use of E Ink screens that suggests that they are a healthier alternative to the light-emitting screens that we use everyday with our phones, TVs, computer monitors, and tablets.
Some companies that sell E Ink products have jumped on this trend and have started making claims that E Ink screens are healthier for our eyes because they don't emit blue light.
Now E Ink (the company) has started up with the blue-light-is-damaging-people's-eye propaganda as well.
Here are a couple of examples:
When Onyx announced their new E Ink phone as CES, this statement stood out in the announcement:
Most folks experience eyestrain caused by excessive phone use. The prevalence of myopia and high myopia are increasing globally at an alarming rate, especially for children and teenagers. The last few years have seen a massive revolution in E Ink technology. Soon there will be an E Ink phone that can be used as a general phone, and with it you will not get eyestrain even you frequently use it for a long time because E Ink display does not emit blue light to your eyes…
So are we supposed to believe that E Ink screens can help mitigate myopia now? That's a new one.
The bottom line is you can get eyestrain from staring at anything for too long. You can get eyestrain from reading a paper book for too long without taking a break. It's not like eyestrain is limited to using LCD devices only.
Eyestrain can often be avoided by giving your eyes breaks between long reading sessions, lowering screen brightness, using eye drops, etc.
Until recently, I hadn't seen E Ink (the company) making such bold claims about their screens, but then in a recent press release about their new color screens, there's this:
More importantly, for reading intensive applications, as E Ink displays are reflective, and not emissive, long form reading and writing are benefited because ePaper does not emit blue light, which can damage the retina and disturb sleep patterns.
So not only are they pointing out that blue light can affect sleep patterns, they're now upping the ante by adding in blue light causes retina damage, thus insinuating E Ink screens are a healthier option.
Whether they're right or wrong isn't even the point. It's the fact that there's zero scientific evidence to support the concept that E Ink screens are healthier for our eyes than LCD screens.
You can't go around claiming your product offers health benefits over a competing product with no proof. That's edging on snake oil territory.
If they're going to keep claiming that E Ink screens are healthier for our eyes than LCD screens, eventually they're going to have to get some proof of that.
Despite all the recent claims that blue light is bad, there is no evidence to support that it causes any kind of long-term damage to people's eyes with the small amount of light emitted from everyday devices like phones, tablets, and computer monitors. Ask an eye doctor if there's any risk of permanent eye damage from using LCD screens and they will tell you no, not unless you're planning on jabbing the screen into your eye.
Some studies have shown that blue light can have an affect on your circadian rhythm, but another recent study shows that blue light may be better than warm light at night. The science is still iffy on the whole blue light subject, especially in regards to the devices we use every day, so it's too early to start claiming health benefits either way.