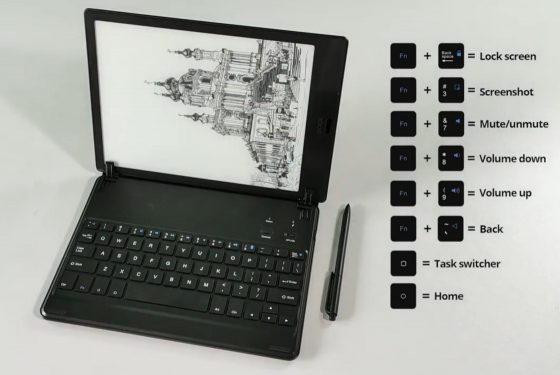 Last month Onyx released a new Bluetooth keyboard that's designed to work with their 10.3-inch Onyx Note models along with the larger 13.3-inch Max models.
Technically you can use it with Onyx's smaller devices as well, including the new Boox Nova2. The Nova is too small to fit securely in both end tabs but you can still prop it up along the back edge and use one tab to partially secure it and that works pretty well.
Pros
The Onyx Note2 fits securely in the keyboard's tabs and you can pivot the holder so it works kind of like a laptop.
You can navigate much of the interface using the keyboard only, including turning pages in ebooks, switching apps, and there are a number of shortcuts using the Fn key, although there seems to be no way to access the quick settings menu or in-app menus without touching the screen.
The keyboard is lightweight and it has a built-in battery that supposedly lasts for several weeks of normal use.
It automatically reconnects after turning it off or putting your Boox device in sleep mode so you don't have to reconnect it every time.
It's nice having a word processor with the benefits of an E Ink screen, with easily readable text outdoors in bright light and low power consumption.
Cons
Onyx's own Note app doesn't support landscape mode so the keyboard is pretty much useless without using a 3rd party writing or note app (WriterP from Onyx's onboard appstore seem to work well enough).
Inexplicably the keyboard has a micro-USB port even though Onyx's devices now have USB-C ports so you have to carry around a different cable in order to charge the keyboard.
It's a $30 keyboard so don't expect great keys but it works well enough to be functional.
There's no menu button or menu shortcut on the keyboard so you often have to use the touchscreen to open menus.
Bug: When using the default Onyx keyboard, it will revert to Chinese whenever you hide the on-screen keyboard from view. Switching to the Android keyboard solves the problem.
Conclusion
If you want to do any kind of long-form typing on your Onyx ereader, the Onyx Bluetooth keyboard is a nice accessory to have and the price is reasonable. I like how there's a slot to hold the ereader in place, but I've also used this cheap Bluetooth keyboard and it works fine too if you don't mind using a separate stand.