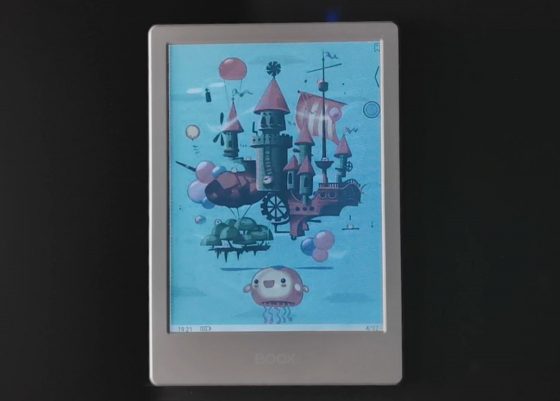 Yesterday Onyx revealed that they would be releasing a new 6-inch ebook reader with a color E Ink screen later this year called the Poke2 Color.
Today Onyx uploaded a video showing their new color E Ink ereader in action, and it looks a lot more promising than the fake computer rendered images that have been circulating since these new crop of color E Ink ereaders have started turning up.
The new color E Ink screens look pretty good. Ghosting appears to be an issue at times but the refresh rate is pretty fast and the colors appear vibrant, especially compared to earlier versions.
Color E Ink certainly benefits from having a frontlight. With the frontlight off the colors probably look pretty dull without ample ambient light, but they never show it with the light off.
They don't specify the resolution of the screen but it looks rather low. Early reports suggest it will be 100ppi in color mode and 300ppi in text mode.
It'll be interesting to see what the screen looks like in person. The contrast is likely worse than a typical black and white E Ink screen because why else would Onyx release a Poke2 with a regular E Ink screen if they're the same otherwise? Unless the color version is super expensive. The regular Poke2 is already a lot more expensive than other 6-inch ereaders at $189.
The oddly-named Poke2 Color appears to have the same specs as the Poke2 that Onyx released yesterday, which has an octa-core processor, 2GB of RAM, 32GB of storage space and it runs Android 9.0.
There's still no official word on a release date or a price yet, but stay tuned for more updates.
Color E Ink eReader – Poke2 Color