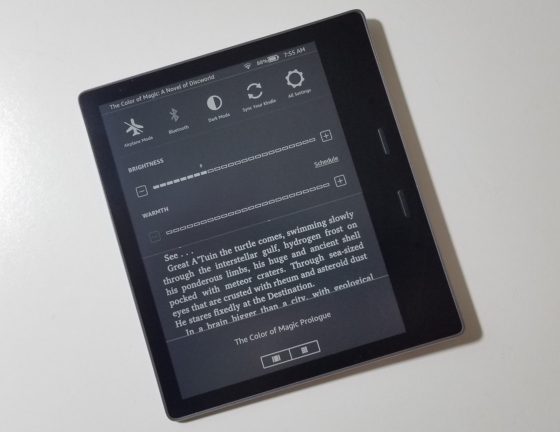 Ever since Amazon started rolling out the Dark Mode toggle to select Kindles last month, there's been a surprising amount of interest in the feature, even though it's something that's been buried in the accessibility settings menu for a couple years now.
Dark Mode—white text with a black background—is a feature that has been available for many years on devices with LCD screens.
The main purpose of Dark Mode is to reduce the amount of light emitted from the screen, especially at night.
For some, Dark Mode can help reduce eyestrain and sleeplessness.
When it comes to ebook readers with E Ink screens, light isn't emitted from behind the screen, so changing the background color to black does not reduce the amount of light. Unlike LCD, E Ink is opaque. The frontlight is on top of the screen, not behind it.
Dark Mode doesn't work the same way with an E Ink screen, which simply inverts the colors, but a lot of people seem to like using it nonetheless. And you can make the argument that less light reflects off a black background than a white background so Dark Mode can be easier on the eyes for night reading, even with a frontlight instead of a backlight.
Not very many ebook readers offer a Dark Mode setting. The latest Kindle Paperwhite and Kindle Oasis 2 and 3 are really the only models where the feature is officially supported (Amazon considers it an accessibility feature).
Kobo's devices have a hidden setting that lets you enable a Dark Mode to invert the screen colors, but it's more of an experimental feature that's not officially supported. It works okay but there's more ghosting and afterimage effects than when using regular mode.
Some Android ebook readers like Onyx's ereaders can use Dark Mode within individual ebook apps, if the app supports it. But Onyx does not have a Dark Mode setting when using their ebook app or user interface. I seem to recall an app that allowed access to the full Android settings menu where you could probably use the system's inverted mode setting, but without any E Ink optimizations it's not going to work as smoothly.
So when it comes down to it, Kindles are the best ebook readers for using Dark Mode, basically by default because they are the only ones where Dark Mode has been optimized to work with E Ink screens. There's less ghosting and erratic flashing, the screen brightness automatically dims when the page fully refreshes to help reduce the "white flash" effect (this is a big deal when reading at night), and images aren't inverted so you can view them normally.
But not all Kindles support Dark Mode. Only the Kindle Paperwhite 4, the current model, and the Kindle Oasis 2 and Kindle Oasis 3 have the option to use Dark Mode. Hopefully more ebook readers will get the feature in the future, as it seems to be something a number of people are interested in.