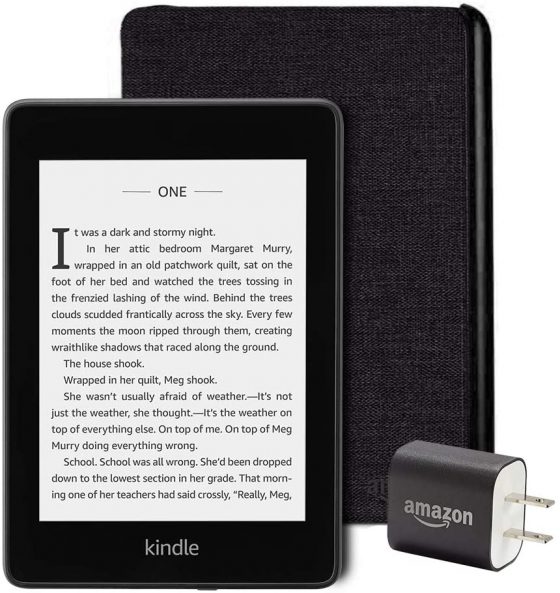 Prime Day doesn't officially kick off until next week, but Amazon has already rolled out some early deals on Kindle bundles for Prime members.
The bundle deals come with a cover and a USB wall charger, and the savings range from $45-$70 off the regular prices when purchasing everything separately.
Usually Kindle bundle deals aren't as good as they seem because they inflate the savings by including a $20 wall charger that probably cost 20 cents to make, but this time around the deals are at least worth considering.
Now that Amazon has revealed that the Kindle Paperwhite will sell for $79 during Prime Day, these bundle deals are probably only worth getting if you need a USB wall charger because you're basically getting a Kindle Paperwhite with a Prime Day price and a free wall charger, but you're basically paying full price for the added cover.
However, the bundle deals on the entry-level Kindle aren't quite as good. Assuming the Prime Day price will be $59 like last year, you're basically paying full price for a cover and $5 for a USB adapter. You can get a lower price by going with a refurbished Kindle for $49 and buying the cover separately, but if you want a USB charger you're better off getting the bundle deal.
If you don't want one of Amazon's official Kindle covers you might want to hold off until Prime Day to get a Kindle separately at a discounted price. Last year Amazon has Kindle covers on sale for a few bucks off so unless you need a wall charger you're probably better off buying a Kindle and a cover separately instead of getting a bundle.
Below is the list of deals that Amazon added today. A Prime membership is required to get the discount. If you don't have Prime you can always signup for a free 30-day trial.
Kindle Bundle Deals
Kindle Paperwhite Essentials Bundle – $109.97 ($70 off)
Kindle Paperwhite Hunger Games Bundle – $109.97 ($70 off)
Kindle Essentials Bundle with Printed Cover – $89.97 ($45 off)
Kindle Essentials Bundle with Fabric Cover – $94.97 ($45 off)
Kindle Kids Edition Essentials Bundle – $92.97 ($50 off)
Other Deals
Kindle – $49 refurbished
Spend $20 on Kindle eBooks, Get $5 Credit Back – (terms may vary by account)