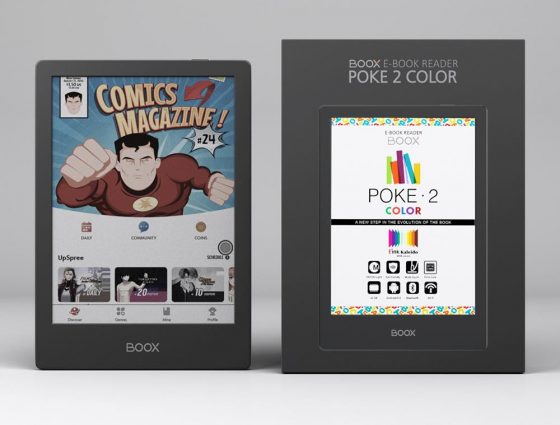 Onyx has started taking orders for the Poke2 Color once again, their first color ereader that uses E Ink's new Kaleido screen technology.
Onyx first started selling the Poke2 Color back in August, but they only sold it for one day before it sold out and then it's been unavailable ever since.
It's good to see they haven't abandoned it yet; it was weird how they stopped selling it for over 3 months after only selling it for one day.
Now the Poke2 Color is back again and available to order from Onyx's website, but the listing says they have a limited supply.
They appear to have made a couple of minor changes. They're calling it the "Boox standard version" now, whatever that means. Their comparison table says it has a USB-C port but none of the pictures show it (the one they were selling in August had a micro USB port).
Apparently they've updated the software to version 3.0 as well, but it still runs Android 9 like their previous models.
They also lowered the price from $299 to $279, but that's still a lot higher than the Pocketbook Color that sells for $229 from Newegg, and it adds page buttons and a memory card slot. I like the hardware on the Pocketbook Color a lot better but the open Android software is undeniably a big advantage with Onyx's ereaders, especially when it comes to color content being able to install apps.
See my Onyx Poke2 Color review for more details about the device and to see a video of it in action.