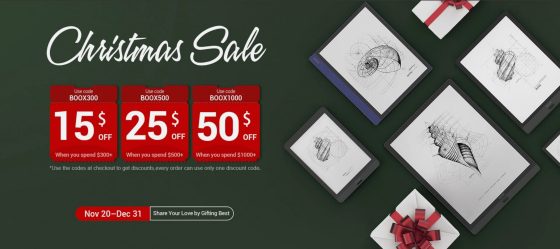 Onyx is currently promoting a Christmas Sale on their website where you can get $15-$50 off the price of Boox ereaders and E Ink notepads depending on how much you spend.
The deals are only available from Onyx's official Boox Shop, not their Amazon store, but one advantage with buying from Onyx directly is they include free accessory packs.
This is how the deals work:
Spend $300+, Get $15 off with code BOOX300
Spend $500+, Get $25 off with code BOOX500
Spend $1000+, Get $50 off with code BOOX1000
You have to use the coupon code during checkout to get the discount.
It basically works out to getting a maximum of 5% off so it's not a huge savings but it's one way to get a discount on Onyx's new lineup of devices.
If you have an Amazon Prime card you get 5% back when buying Onyx's devices through Amazon as well. In fact 5% back on the Note Air at $479 is $23.95 so that's actually better than what Onyx is offering. But Onyx charges extra for their bundle packages when purchasing through Amazon, when/if they offer them.
Onyx is also giving three people the chance to win what is essentially a $239.99 store credit when purchasing the new Note Air. All the details can be found on Onyx's website.
The sale period lasts through December 31st so you have plenty of time to take advantage of the deals but Onyx's devices go out of stock often so you might not want to delay for too long. They just brought back the Poke2 Color with a color E Ink screen, but of course it's priced $20 below the $300 threshold.