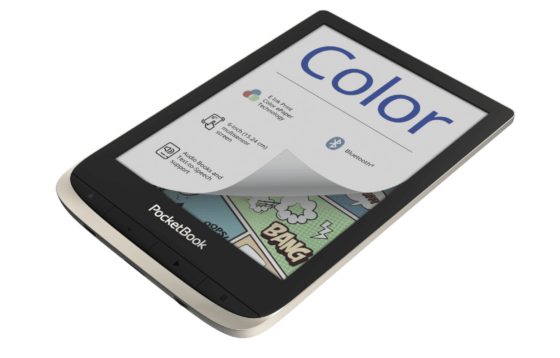 If you're looking to get one of the first ebook readers with a color E Ink screen, the Pocketbook Color is currently on sale at Newegg.
The Pocketbook Color normally sells for $229 plus shipping, but for the remainder of the week it's marked down to $199 with free shipping.
That's only $40 more than Pocketbook's regular 6-inch ereader with a monochrome E Ink screen. Speaking of which, the PocketBook Touch HD 3 isn't on sale but they currently have a promotion where it comes with a free cover.
It would be a better choice for reading ebooks with the 300ppi Carta screen since text contrast isn't as good on the color screen, but if you want to read content with color the Pocketbook Color is a good choice.
The only other option for color E Ink at the moment is the Onyx Poke2 Color, but it's a lot more expensive at $279. I like Pocketbook's design a lot better with the page buttons and memory card slot, but Onyx's ereaders run Android so their operating system can take advantage of the color screen in more ways by using apps.
As far as specs, the Pocketbook Color has a 6-inch E Ink Kaleido screen with a resolution of 300ppi for black and white content and 100ppi for color content. It has a frontlight (no color adjustment), 16GB of storage, 1GB of RAM, a microSD card slot, Wi-Fi, Bluetooth, a 1900 mAh battery, and it has a dual-core processor.
The Pocketbook Color appears to be selling pretty well. When sorting by best selling at Newegg it's always at the top of the list so they're selling more of them than their regular black and white ereaders, which is kind of surprising.