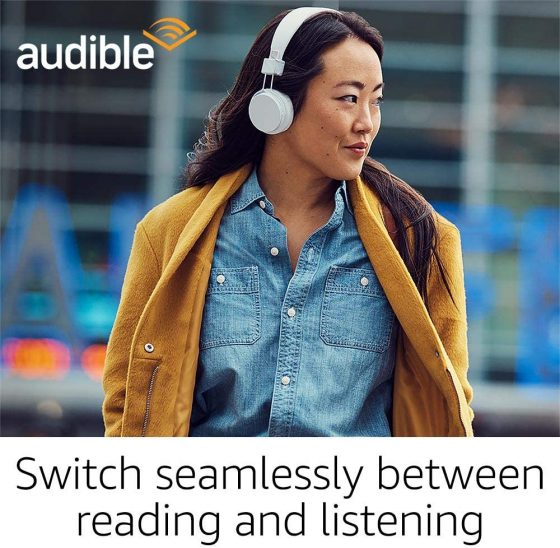 More companies have started adding audiobook support to ebook readers over the years, and they've started advertising it as a selling point, but do people really want to listen to audiobooks on a dedicated reading device?
Statistically speaking, I would think that the number of people that would use an E Ink ebook reader to listen to audiobooks is really low, like in the single percentages.
Most people already own phones that work better for that kind of thing, or you can get a tiny MP3 player that can easily fit in a pocket for under $30.
Is having an ebook reader that supports audiobooks really that important?
One of the new features that Amazon touted with the release of the second generation Kindle Oasis was the addition of audiobook support, which they've added to all new models since. Even the cheap entry-level Kindle supports audiobooks now.
However, Kindles only support audiobooks from Amazon-owned Audible, and there are some annoying limitations, like not being able to read along while the audiobook is playing.
Plus there's the fact that a Kindle simply isn't a very good audiobook player. They don't have speakers or a headphone jack, there's no external volume buttons, and they only work with Bluetooth speakers or headphones.
Battery life is great on ebook readers with E Ink screens when it comes to reading text, but battery life is terrible when it comes to streaming audio. I once tested the Kindle Oasis 2 and the battery only lasted about 8 hours when streaming audiobooks (and that's on a $250 device). I did the same test with the cheap $49 Fire tablet and it could easily triple that number, and with Fire tablets you can read along while audio is playing if you want to, and they also add external speakers, a headphone jack, and volume buttons.
Kobo is expected to release a new model soon, and it looks like it will be their first to support audiobooks. There's not much information available about it yet, but the fact that it has Bluetooth and 32GB of storage space is a fairly big indicator, and it would makes sense given the fact that Kobo started selling audiobooks a few years ago.
Android-powered ereaders support audiobooks as well. Likebooks advertise that fact heavily, and Onyx ereaders support audiobooks as well, although they don't advertise it much. PocketBooks support audio files and audiobooks too, and they've done so for a long time.
If Kobo starts adding audiobook support to their ereaders then most dedicated ebook readers on the market will support audiobooks in some form.
Adding more features is a good thing but is audiobook support something that people really want on their ebook reader, or is it just another revenue stream companies are trying to force onto our devices?