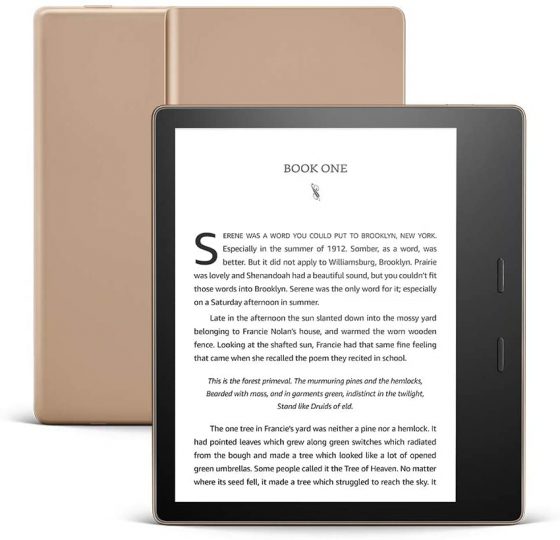 If you follow this blog you've probably sensed a growing level of frustration over the lack of Kindle-related developments in recent years. Everyone seems to be improving their lineup of reading devices except Amazon.
In 2016 Amazon released the first generation Kindle Oasis with a completely new design, and that was the last major change to the Kindle lineup. Since then not much has changed or improved.
Meanwhile other companies are releasing ereaders with a wide range of screen sizes, some have flexible screens that don't break, others have advanced note-taking abilities like Onyx's ereaders, and a few companies have started releasing ebook readers with color E Ink screens, like the new Pocketbook InkPad Color.
But year after year Kindles remain the same; Amazon didn't even bother to release a new Kindle last year. The last "new" model they did release was the Kindle Oasis 3, and basically all they did was re-release the Kindle Oasis 2 with an added warm frontlight.
In early 2019 they released the current entry-level Kindle. The only real improvement was the addition of a frontlight. Everyone else had stopped selling non-frontlit models years ago so they had to "upgrade" it eventually. It still has a lower resolution screen than the first Kindle Paperwhite that was released in 2012 so it's hard to consider it much of an upgrade at all.
The last biggest change to the Kindle lineup came in 2018 when they released the Kindle Paperwhite 4, and all they did was made it waterproof and added more storage space to accommodate the addition of audiobook support—things that ultimately won't matter in the slightest to most Kindle users. And it could be argued the screen is actually a slight downgrade compared to the Paperwhite 3 because of the added smudge-prone plastic layer over the screen.
Here's the list of all the main hardware "upgrades" that Kindles have received over the past half decade:
They added a frontlight to the entry-level Kindle (but it still has a lower resolution screen than literally every single other ereader on the market).
They made the Kindle Paperwhite waterproof (how often is that useful?).
A warm frontlight was added to the Kindle Oasis 3 (three years after other companies started doing it).
They increased the size of the Kindle Oasis's screen from 6-inches to 7-inches.
Audiobook support was added, along with Bluetooth to stream audiobooks (but only Audible audiobooks are supported).
Increased storage space to 8GB/32GB.
You could argue that most of those changes are irrelevant for the vast majority of Kindle users.
At this point the only ereaders that are evolving slower than Kindles are Nooks, and B&N has pretty much thrown in the towel on developing new Nook hardware. It's a shame that Amazon would rather make cuckoo clocks that support Alexa than improve the Kindle lineup.