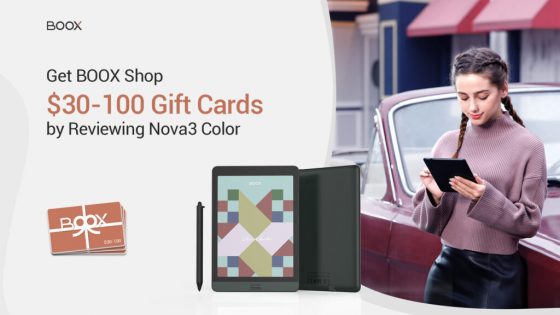 I saw a post over on the Onyx Boox blog where they are giving away gift cards to people that post reviews of the new Nova3 Color.
Onyx as a company does some questionable things sometimes, and it depends on where you stand on the paying for reviews thing, but either way this is another oddity to add to the list.
Basically Onyx is giving away five $30 gift certificates and two $100 gift cards to people that post reviews of the new Nova3 Color on YouTube, Reddit and Twitter.
You have to apply for entry, and they obviously aren't going to select reviews that are critical so that's where paying for reviews gets dicey. There's also no mention of requiring people to mention they were given a gift card for posting said reviews.
Entries are being accepted until April 20th and the winners will be announced on April 22nd.
Here's what Onyx says about how reviews will be selected:
Readers' comments, likes, and upvotes of your review articles/videos will be taken into consideration.

We will also evaluate your writing and photography through the review. We would especially love to see magnificent artwork created on Nova3 color.
More details can be found on the Onyx Boox blog.
What do you think about Onyx giving away gift cards in exchange for reviews? Is it a bad idea or does it really matter?