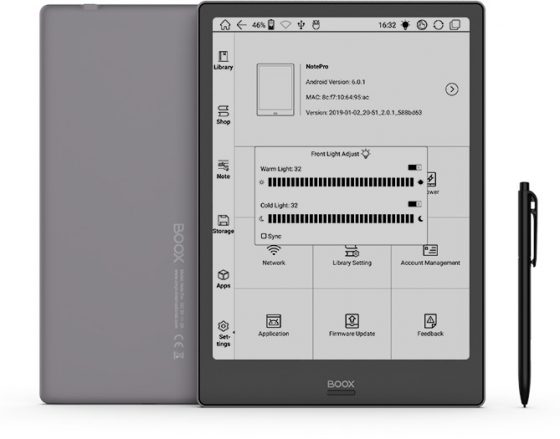 Onyx has finally released the promised upgrade from Android 6 to Android 9 for the 10.3-inch Note Pro and 7.8-inch Nova Pro, but it might be more trouble than it's worth for most people.
Onyx has been saying they would upgrade the Note Pro and Nova Pro for literally a year and a half now (they've released three new Note and Nova models each in the meantime). Most people gave up on the update a long time ago, but kudos to Onyx for living up to their promise after all even if it did take 18 months.
However, the upgrade process is rather convoluted and it comes with some risks of bricking your device.
Here's what it says on the upgrade page:
After testing Android upgrade for Note Pro and Nova Pro for a long time, we've finally made the breakthrough and brought the Android 9.0 for these two models. Although we've fixed a lot of bugs for the flashing packages and determined to offer a secure solution, it's still a high risk to upgrade an Android 6.0 device to a much higher version.
They go on to say if you are satisfied with the V3.0 firmware on your Note Pro or Nova Pro with Android 6 you shouldn't risk upgrading to Android 9. They also mention that you can send your device in for repair if it gets borked during the update process, but you will have to cover shipping costs.
Given the fact there are very few benefits to upgrading, most people are probably better off just sticking with Android 6 unless an app incompatibility issue comes up, but if you really want Android 9 you have the choice to upgrade if you want.
Here's the link to the page with the directions on how to upgrade the Nova Pro and Note Pro to Android 9. Make sure to read the directions closely, and you might want to follow this discussion over at MobileRead with other people's experience on the upgrade process.