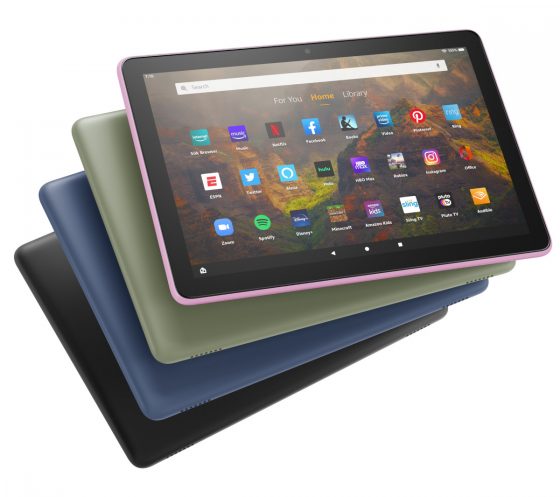 Amazon officially released a new Fire HD 10 tablet yesterday on May 26th. Actually they released something like 47 different versions of the Fire HD 10 (I'm not being sarcastic; that's literally how many different configuration options there are to choose from, and that's not counting add-ons).
I've poked fun at Amazon in the past for the crazy number of choices a person is required to make when it comes to buying a new Kindle, and there are even more options when it comes to Fire tablets.
With the new Fire HD 10 you have to decide between a regular and a Plus model (the Plus version adds more RAM, wireless charging, and a soft-touch finish), and each is available with or without ads, and you have the choice between 32GB and 64GB, and then there are four color choices for the regular Fire HD 10 (but only black for the Plus version).
There's also a productivity bundle that comes with a keyboard case and it's available as the regular version in four colors or the Plus version, with ads or without, with 32GB or 64GB.
Oh, and there are two new kids models as well for different age brackets, the Fire HD 10 Kids and the Fire HD 10 Kids Pro. Both sell for $199 and come with 1 year of Amazon Kids+, a case, a 2 year warranty, and both come in various colors.
Once you get all that figured out you might be wondering how this model is different from the last.
Basically, the new Fire HD 10 tablet has an updated design that's a bit thinner and lighter than the previous model and it comes with a couple of incremental hardware improvements. According to Amazon, the screen is 10% brighter and they increased RAM to 3GB on the base version and 4GB on the Plus model. How exciting (now there's some sarcasm). The base version starts at $149 and the Plus version starts at $179.