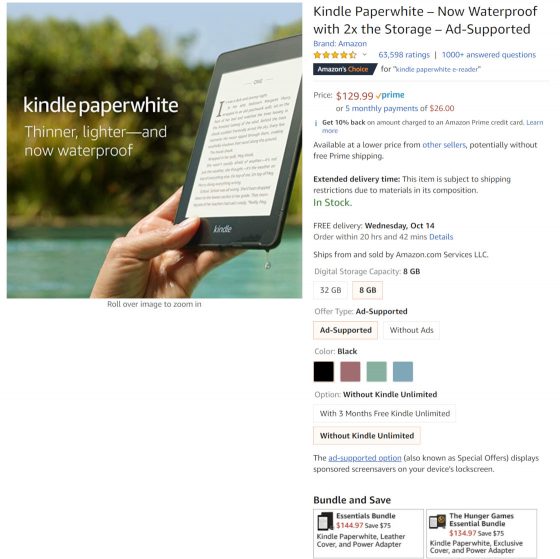 Looking over the product page for the Kindle Paperwhite, it's surprising how many different choices a person is required to make in order to make a simple purchase.
That's not even taking into account having to decide which Kindle model to chose in the first place. It would be one thing if they were all different sizes and easily distinguishable from one another, but when they have a basic Kindle that offers all the same reading features and is roughly the same size as the more expensive Paperwhite, it can be hard to determine which one to get. And then there's the Kid's Kindle, which is exactly the same as the entry-level Kindle, so that doesn't help any either.
After a person decides which Kindle model to choose, there's another whole series of additional decisions to make.
First, you have to decide how much storage space you want, 8GB or 32GB. People are conditioned to think more is better, but unless you're going to load your Kindle with audiobooks or a massive library of 10,000 ebooks, then 8GB is going to be just fine.
Then after that you have to decide if you want to save $20 by getting a Kindle with ads on the sleepscreen and homescreen. This is the one thing that can be changed after you purchase a Kindle so it's not a big concern, but new buyers don't know that.
The third choice a person is presented with is a choice of color. The Paperwhite comes in 4 different colors and the entry-level Kindle and Kindle Oasis come in two different colors, but the Oasis with 8GB only comes in one color, and oddly the Kids Kindle only comes in one color as well, but with it there are several cover choices.
After that there's the option to choose if you want your new Kindle to come with a free 3-month trial for Kindle Unlimited or not. A lot of people don't realize Amazon will automatically start charging $9.99 per month after 3 months if you don't cancel so make sure to choose wisely or remember to cancel.
You would think the choices would end there, but if you scroll down the page a little further, you have additional options to chose various Kindle bundles that come with a cover and USB wall charger.
The choices don't end there. With the Kindle Paperwhite and Kindle Oasis you also have the option to buy them with free cellular connectivity. They are the most expensive Kindles that Amazon sells, $250 for the Paperwhite and $350 for the Oasis. The ironic thing about these two models is there are no color choices, no storage capacity choices, no additional configuration options whatsoever.
That seems like a lot of steps to take just to buy a Kindle, especially for someone new to Kindles. Trying to figure out exactly what to choose is like trying to pick the right paint color.
Why offer so many configuration choices for what amounts to the exact same reading experience in the end?
Here's an idea: Just offer a decent amount of storage space to begin with instead of nickel-and-diming for every GB, and leave the lower capacity for the entry-level model; get rid of the stupid ads altogether and let people set their own screensavers; and make the Kindle Unlimited trial an option during initial setup.
Just offer a few color options and let people choose to bundle a cover if they want to. What's the advantage of requiring people to make 10 different choices just to buy a simple device for reading ebooks?